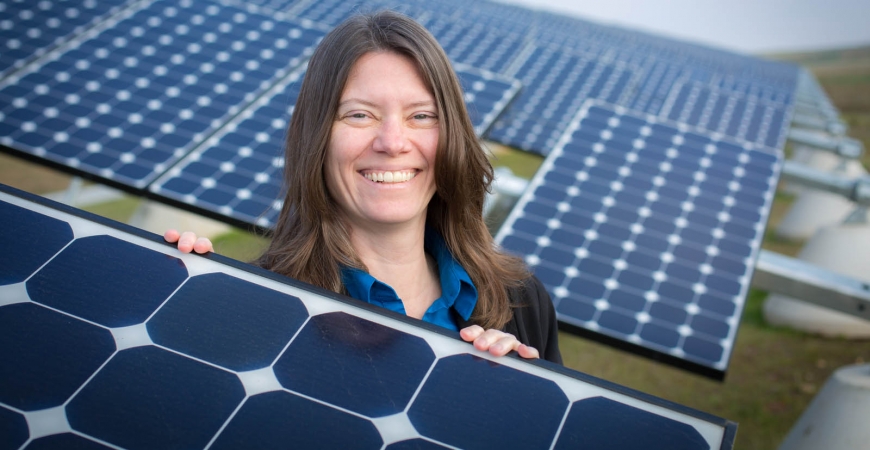 When Colleen McCormick joined UC Merced as its sustainability director in 2014, the university had lofty aspirations but no specific action plan to get from Point A to Point B.
Today, the campus has a Sustainability Strategic Plan that provides a roadmap for its efforts and an annual sustainability report to assess progress toward its goals. The Chancellor's Advisory Committee on Sustainability is another development, advising Chancellor Dorothy Leland on matters pertaining to sustainability goals, policies and practices at UC Merced.
McCormick's time at UC Merced is coming to a close. She'll remain in the University of California family, though, as she assumes the role of sustainability director at UC Davis Health. Chief Operating Officer Mike McLeod said McCormick will leave behind a legacy of collaboration and embedded sustainability practices.
"Colleen has been a tireless champion of sustainability throughout the university," Chief Operating Officer Mike McLeod said. "She's worked with faculty, staff and students to incorporate sustainability into UC Merced's curriculum, business processes and daily life. And she's done it with a small, two-person staff and a multitude of student employees."
Assistant Directors of Sustainability Mark Maxwell and Breeana Sylvas both credit McCormick for being a skilled collaborator. Maxwell said her guidance was instrumental in his development of the LEED Lab — an engineering course open to all majors that teaches students about green building and qualifies them to sit for LEED certification exams.
"I had an idea, but no experience with faculty or creating curriculum," he said. "Colleen helped me to develop the relationships needed to create course programming that brought as much value to the university as to the enrolled students."
"Colleen was always enthusiastic when it came to piloting new projects, and she has always been supportive," Sylvas said. "I've learned much from her and wish her great success in this next chapter."
Other accomplishments from McCormick's time at UC Merced career include:
achieving AASHE STARS Gold status for the campus in 2016;

building relationships in the Merced community to increase food security for students and reduce food waste, through Bobcat Eats and other programs; and

developing the Energize Colleges internship program, which trains students in sustainability-related career pathways.
McCormick said her charge was to foster a culture of sustainability among students, faculty and staff; to identify and prioritize areas for institutional sustainability efforts; to plan and develop short- and long-range goals; and to engage campus leaders to foster sustainability broadly across campus units.
"My vision was to see UC Merced recognized as a sustainability leader at the national level," McCormick said. "It's been truly rewarding to see that vision come true. I have really enjoyed my tenure at UC Merced and will cheer on the continuing advancement of its sustainability efforts."