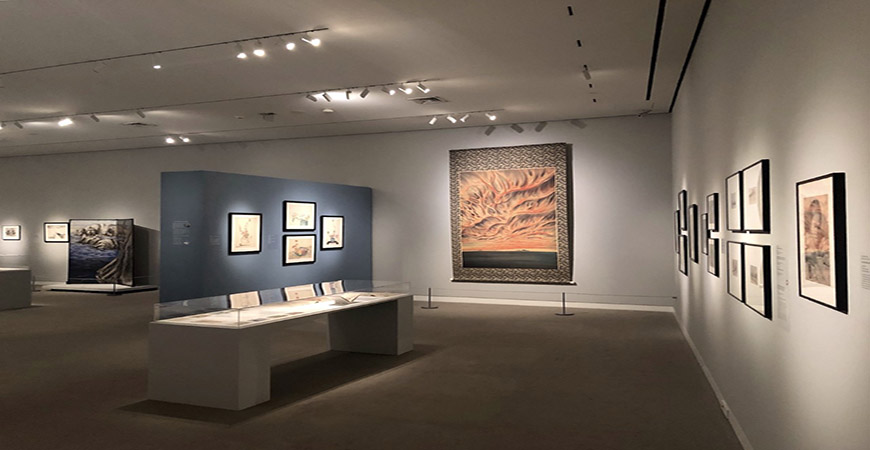 What is art's place in turbulent times? How does an immigrant live and thrive in a host country with laws that render one's existence alien? And how does one continue to see beauty even in the face of grave injustice?
These are the guiding questions UC Merced Professor ShiPu Wang used to curate "Chiura Obata: An American Modern," an exhibition that features Obata's varied works across his life, from his time as a student in Japan to his seven decades as a major artist in the San Francisco Bay Area. The retrospective includes more than 150 paintings, drawings and prints, many of which are on display for the first time.
Born in Okayama, Japan, in 1885, Obata was a UC Berkeley art professor for nearly two decades. He lived through tumultuous times, including the Exclusion Era and World War II when he was incarcerated during the Japanese-American internment. Yet he never stopped making art that celebrated the natural splendor of America — his home between 1903 and 1975, when he died at the age of 89.
"I am particularly interested in presenting Obata's never-shown works. They give us a fuller picture of his rich and varied body of work. They also illustrate his disciplined pursuit of better techniques, thoughtful synthesis of different artistic and cultural traditions, and devoted appreciation of the detail of everyday life," Wang said. "His expansive repertoire of artistic expressions defies traditional categorization of 'East vs. West' and encourages us to reconsider definitions of American art, and what being American means."
Wang's exhibit first opened at UC Santa Barbara's Art, Design & Architecture Museum in January 2018 before it went on display at Salt Lake City's Utah Museum of Fine Arts — the exhibition was the museum's first summer blockbuster in a decade and its first retrospective of an artist who was incarcerated at nearby Topaz, Utah, during World War II. With the help of a major exhibition grant from the Terra Foundation, the exhibit traveled to the Okayama Prefectural Museum of Art and became the first-ever Obata retrospective in Japan.
More than 37,000 international visitors saw Wang's exhibition before its arrival at the Crocker Art Museum, where it is on display from June 23 through Sept. 29. After that, it will make its way to the Smithsonian American Art Museum in Washington, D.C., for a six-month exhibition, beginning Nov. 27.
Wang joined UC Merced in 2006 as a founding faculty member of the Global Arts Studies Program. He also founded the UC Merced Art Gallery in 2011 and served as its curator for three years. Wang is the Coats Family Endowed Chair in the Arts and a professor of art history and visual culture. A former Smithsonian American Art Museum Fellow, he is the winner of the 2018 Georgia O'Keefe Museum Book Prize for his work titled "The Other American Moderns. Matsura, Ishigaki, Noda Hayakawa."
Wang will speak about his exhibition at the Crocker Art Museum at 2 p.m. July 7. Registration is available online.
Senior Public Information Officer
Office:(209)585-6341