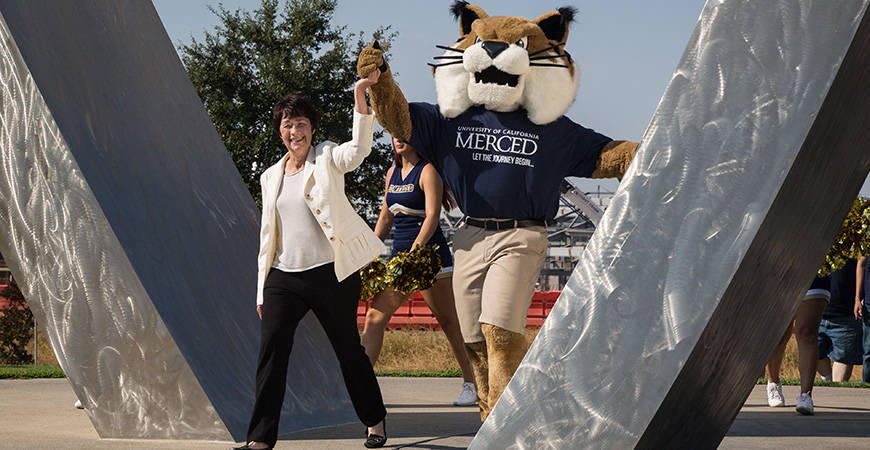 Dorothy Leland announced today (May 13) her intention to step down as chancellor of the University of California, Merced, effective Aug. 15, 2019.
"These have been the most gratifying eight years of my long professional career," said Leland, who was appointed by the Board of Regents in 2011 to serve as the third Chancellor of the then 6-year-old campus. "The decision to step down is not easy, but the moment is right, both for the campus and for me."
Leland, who previously served for seven years as the president of Georgia College & State University, became chancellor at a pivotal time in the history of the young campus — the first new UC campus to open since 1965 and the first research university to be built in the historically underserved San Joaquin Valley.
Beyond confronting the normal growing pains of a new institution, Leland also faced the challenge of expanding and strengthening the fledgling campus's physical, financial and academic position at a time of global economic recession.
Overcoming skeptics who at the time questioned UC Merced's ability to grow its enrollment or research stature, Leland guided the campus from a start-up to maturing research institution. During her tenure, enrollment grew by more than 4,000 students, including a 73 percent increase in graduate students; four new majors were added; and 134 new faculty members were hired.
To make this expansion possible in a time of sharply reduced state support for capital projects, Leland championed an innovative $1.3 billion approach that is doubling the size of the Merced campus with new classrooms, laboratories (including a Biosafety Level 3 lab to study infectious diseases), housing and athletic facilities — all in just four years.
"Merced 2020," as it has come to be known, is a public-private partnership that is the first of its kind for a public higher education institution in the United States. The project will create enrollment capacity for more than 10,000 students, expanding access to a campus that already educates the highest percentage of first-generation and low-income students of any UC campus.
At the same time, UC Merced has seen a dramatic rise in its research and academic distinction. In 2016, the campus was designated by the Carnegie Classification of Institutions of Higher Education as a "doctoral-granting university with higher research activity" — or R2, the second-highest classification for American research universities — and is by far the youngest institution to be so designated. The R2 classification recognizes UC Merced as a selective institution that awards more than 20 doctoral degrees, primarily in the fields of science, technology, engineering and mathematics (STEM).
By Leland's fifth year as chancellor, the campus had leaped into U.S. News and World Report's Best Colleges list, and has been rising in the rankings ever since — jumping in just the past year by 29 spots to No. 136 overall among National Universities and 20 spots to No. 67 for Top Public Schools.
UC Merced has also emerged among the best universities in the nation at supporting its students along their academic journeys. The university's six-year graduation rate is 16 percentage points higher than the rate predicted by U.S. News' formula — which uses factors such as the percentage of low-income students and an institution's financial resources — making it the No. 2 university in the nation for overperforming on that measure.
Leland's fierce advocacy for UC Merced's unique student body has extended to the public stage. She has emerged as a leading proponent for the Deferred Action for Childhood Arrivals (DACA) program, whose beneficiaries number roughly 600 UC Merced students — the largest proportion of any UC campus. A co-founder of the Presidents' Alliance on Higher Education and Immigration, a 240-member national organization, Leland has written and testified extensively on behalf of the DACA program.
"These students are the very embodiment of the American dream, and their presence here is unquestionably beneficial to our state," Leland wrote last year in the San Francisco Chronicle. "The prospect of life without [DACA] is one of their worst nightmares. It should be ours as well."
During Leland's tenure, UC Merced also undertook sweeping initiatives to streamline processes and create efficiencies designed to reduce administrative costs and to devote more budget resources directly to the campus's academic enterprise. She also spearheaded a partnership with the City of Merced to consolidate administrative space, previously distributed inefficiently across several leased facilities, in the Downtown Campus Center, a 67,400-square-foot LEED Gold facility across from City Hall. It houses 40 non-academic departments and more than 300 employees, and has been credited with helping spur economic growth in downtown Merced.
"Through the new Downtown Campus Center and other initiatives," said Leland, "UC Merced has become a true partner to the region, giving back to it through our contributions to the economy and its culture and by helping meet the region's educational needs."
These achievements led Education Dive to name UC Merced " University of the Year" in its 2018 Dive Awards designed to honor the industry's top disruptors and innovators.
"I am grateful for all that we have accomplished together," said Leland. "UC Merced's distinction, both now and into the future, is not a reflection of its administrative leadership but of a unique student body; our growing numbers of distinguished faculty; and a staff that works harder and wear many more hats than most."
UC President Janet Napolitano said she will immediately launch a national search to find a new chancellor who must match the innovation and dynamism of the Merced campus.
"There is no doubt: Chancellor Leland's strong leadership and tireless advocacy on behalf of UC's youngest campus has helped amplify UC Merced's many strengths and solidify its place in the system," Napolitano said. "She has well-positioned the campus for its next pivotal phase, including the completion of Merced 2020 and the path toward even stronger financial footing."
In the meantime, Napolitano said, she will name an interim chancellor at the Board of Regents meeting later this week. The Board is being asked to approve the appointment during an open session on Thursday morning (May 16).
During this interim year, Leland has agreed to chair the Merced 2020 Project Governance Board and also to provide leadership for several emerging opportunities for the campus in its partnership with the National Park Service.
Among Leland's last official acts will be to preside over the 2019 Commencement ceremonies, to be held May 18-19 on the quad that bears the name of founding Chancellor Carol Tomlinson-Keasey.