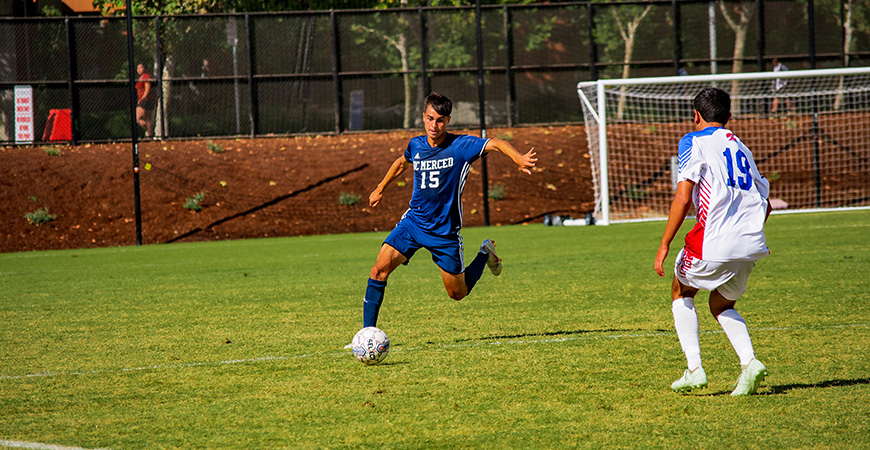 Fall sports at UC Merced are getting underway in the next few weeks, with five Bobcat teams looking to build on strong 2018 seasons. That includes the men's soccer team, which will try to defend its California Pacific (Cal Pac) Conference regular season championship.
The team — which made it to the NAIA National Championship tournament for the second straight year in 2018 — will host eight games at Bobcat Field, including the home opener against Oregon Tech on Aug. 29. Conference play begins in late September, when the Bobcats host Benedictine University at Mesa on Friday, Sept. 27, and Embry-Riddle Aeronautical University in Arizona on Sunday, Sept. 30.
The Cal Pac Conference Men's Soccer Championships will be held at UC Merced starting Nov. 13.
The women's soccer team will take the field hoping to build off a 2018 season that culminated in the Cal Pac Conference championship game. The Bobcats open the season on Saturday, Aug. 24, at home against Menlo College. Conference play opens Friday, Sept. 27, against Benedictine University at Mesa, and the team hosts six conference games at Bobcat Field — the most since the 2013-2014 season.
The women's volleyball team hosts nine matches at the Joseph Edward Gallo Gymnasium in 2019, including the home opener against Menlo College on Aug. 17. The Bobcats begin conference play at home against Providence Christian College on Thursday, Sept. 19.