Early on Mother's Day morning, Coty Ventura and her daughters Bobbi and Jessica headed to UC Merced to do their part to help make the day special for hundreds of UC Merced graduates and their families.
With steamers in hand, Coty and Bobbi smoothed wrinkles from the ceremonial robes of the official platform party members and helped them put on their academic regalia. Jessica, meanwhile, greeted and checked in faculty members as they arrived.
"I work with many graduate students, and I know how hard they work to receive their hood, "
said Coty Ventura, management service officer for the Sierra Nevada Research Institute. "The first time I saw a Ph.D. hooding, I felt a sense of pride to be a part of the candidate's journey. That's why I keep volunteering."
The trio were among dozens of volunteers who gave their time and energy to UC Merced's two commencement ceremonies, which celebrated more than 1,200 graduates and hosted 10,000 guests Saturday and Sunday.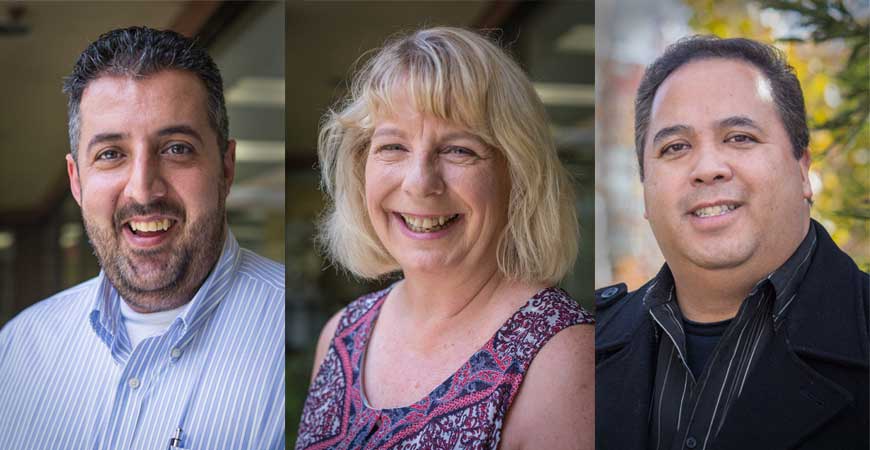 More than 50 people across the campus spend time throughout the academic year working on every aspect of commencement, and it takes an additional 100 volunteers to carry out each day's event. From Dining Services and the Campus Store to Transportation and Parking Services, commencement provides unique challenges for nearly every unit on campus.
The night before Saturday's ceremony, volunteers were spread across multiple locations — including the Bobcat Lair, dining commons, the Promenade and the Downtown Campus Center — taking care of last-minute details: preparing merchandise for concession stands, assembling floral arrangements, sorting and organizing volunteers' gear, hanging signage, preparing for the live stream broadcast and more.
On the morning of each ceremony, staff and volunteers checked in students and faculty members and got them ready to march in the procession; public safety employees manned stations in the command center and throughout campus; and custodial and maintenance crews cleaned and spruced up the campus before and after the events.
Organizers said having two commencements in one weekend is like having two weddings with 5,000-plus guests 24 hours apart. It's a major undertaking that deserves thanks and recognition. In honor of the UC Merced's Class of 2018 and the start of Staff Appreciation Week, several staff members shared why they volunteer:
Mort Peyvandi
Data Systems Analyst, External Relations
Length of service at UC Merced: Four years
Volunteer assignment: Lead shuttle driver
Why do you volunteer? "You get to see all the hard work we do every day on the faces of the students, parents, and families as they celebrate this great moment in their lives. For me, it comes full circle to see the students during Bridge Crossing and then commencement."
What is one of your favorite memories? " Driving three generations of a family who came to celebrate the commencement of their family member."
Pam Taylor
Business Officer, Administration Coordination Team (ACT)
Length of service: 13 years
Volunteer assignment: ADA shuttle driver
Why do you volunteer? "It's the 'finally' of our mission in serving students who work so hard. There's nothing better than helping our students' families and friends experience a seamless day as they celebrate their accomplishments. I love driving the cart because I get to hear so many stories about their graduate and how proud they are of them. I've talked to families from as far away as New York, Florida and Australia. It warms my heart to think I was a part of these families' very special day."
Abraham Cereno
Associate Director, CatCard Office
Length of Service: Six years
Volunteer assignment: Check-in and registration
Why do you volunteer? " I volunteer because this is part of my 'why' — why I do the work I do here. I'm passionate about helping the campus in any way that I am able. I enjoy sharing these moments with our graduates and seeing them happy. Their success is our success."