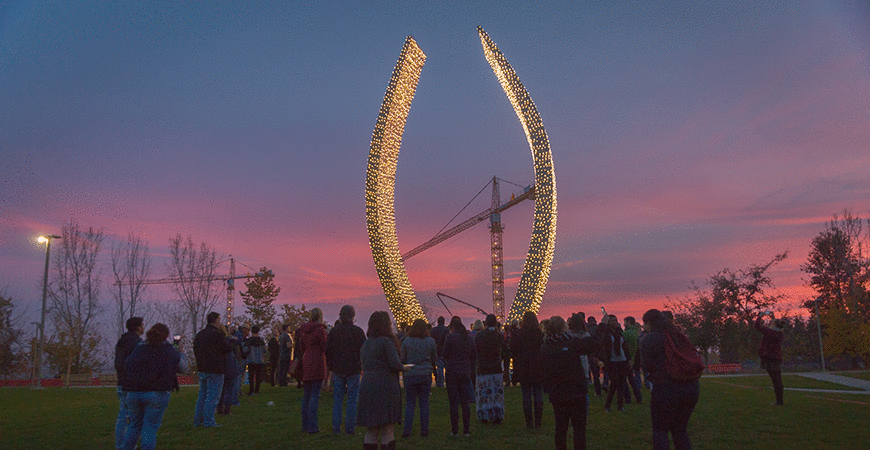 The Beginnings sculpture serves as the focal point of UC Merced's campus, and starting this week, it will also be a beacon of light for the holiday season.
Chancellor Dorothy Leland and Staff Assembly are hosting the second annual Beginnings Lighting on Tuesday, Dec. 4, from 4:30 to 6 p.m. at Carol Tomlinson-Keasey Quad.
Attendees can enjoy hot chocolate, warm cider and sweet treats as they watch the Beginnings sculpture light up the night sky. Last year, the event capped off the fall semester. This year's lighting was moved up a few weeks to enable more students to partake in the festivities.
"The Beginnings lighting provides a unique opportunity to come together as a campus and celebrate the holiday season," Vice Chancellor Ed Klotzbier said. "It was a great success last year and we invite the entire Merced community to enjoy this wonderful event with us."
The event will feature a holiday food drive that will help supply the Bobcat Pantry. The pantry, which opened in August, serves as a food and basic needs security resource for all students on campus twice a week. Bobcat Pantry also offers CalFresh application assistance with the support of the Merced County Human Services Agency every Wednesday and encourages student engagement through participation with volunteer opportunities, recipe sharing, and fundraising/donation partnerships. Over 400 students funnel through Bobcat Pantry every week.
"We are grateful for all the caring students, staff, faculty and alumni for their support of the Bobcat Pantry," said Bavneet Kaur on behalf of Bobcat Pantry leadership. "Each contribution helps to provide meals to our students who may find themselves struggling during the holiday season and finals week. Student success is our success!"
Preferred donation items include bread, peanut butter, almond butter, jam and jelly, shelf-stable milk, fresh produce, canned vegetables, oatmeal, pasta, pasta sauce, rice, legumes, spices, canned meat, cereal, nuts, dried food, canned fruit, toothbrushes, toothpaste, hand and body soaps, shampoo and conditioner, deodorant and toilet paper.