UC Solar received a $1.1 million grant from the U.S. Department of Energy Solar Energy Technologies Office (SETO) to develop solar-thermal desalination technologies that reduce the cost of creating fresh water from otherwise unusable waters such as seawater, brackish water and polluted water.
UC Solar Director Professor Roland Winston will lead a team that includes professors Gerardo Diaz and James Palko, focused on developing low-cost, portable technologies that collect and store solar-thermal energy that can be used to power water-purification systems.
The project was one of 14 selected to receive SETO funding as part of an effort to reduce the cost of solar-thermal desalination and help the technology to reach new markets, including rural areas not connected to the electrical grid.
Solar-thermal desalination involves capturing and concentrating sunlight and converting it into heat to evaporate salty or polluted waters. The vapor is captured and cooled back into liquid. Salts and other impurities do not generally travel with water vapor, so the water that emerges after cooling is clean and can be used in everyday applications such as agriculture and industry or integrated into municipal water systems.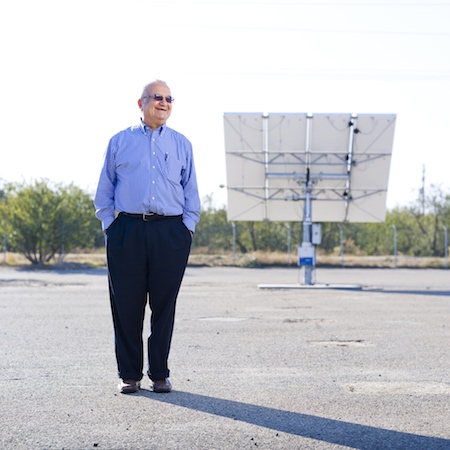 Technologies that harness the sun's heat to purify water already exist, but they tend to be inefficient and expensive, putting them at a competitive disadvantage against cheaper fossil fuel-based technologies that purify water but contribute to climate change in the process. UC Solar is developing green technologies that purify water cheaply and efficiently without leaving a large carbon footprint.
"The proposed system will be the most affordable solar-thermal system on the market for all applications at the target temperature range," Winston said. "It will reduce the installation and operation costs associated with other systems and make solar-thermal systems even more cost-competitive with fossil fuels. Furthermore, its portability will make it an ideal solution for desalination in remote areas."
UC Solar is a multi-campus research collaborative launched in 2010 that comprises researchers from nine UC campuses and Lawrence Berkeley National Laboratory. UC Solar is dedicated to applied solar research and the development of innovative technologies that make solar energy systems more efficient, affordable and easier to integrate.