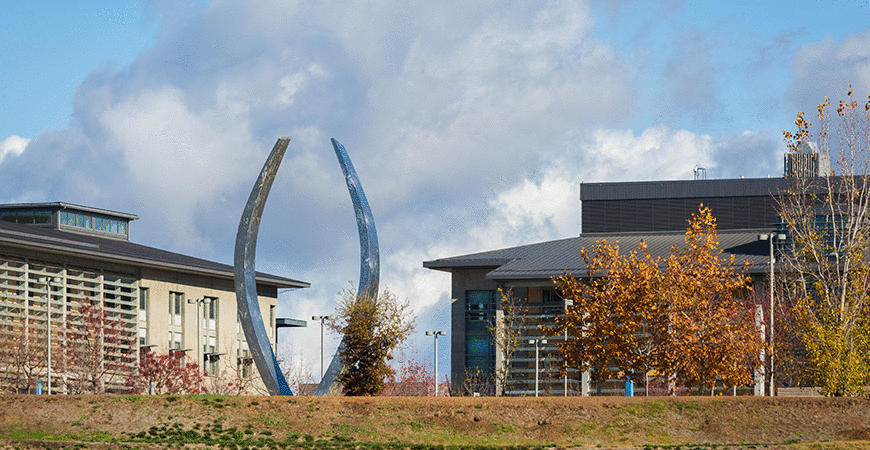 Professor ShiPu Wang has been named the Coats Family Chair in the Arts. Wang plans to use funding from the endowment to not only supplement his research, but also to provide a broader experience and education in the arts.
Wang's connection to the Coats Family goes back to 2011, when he founded the UC Merced Art Gallery. Funds from the endowment, which was one of the first endowed chairs at UC Merced, helped support the art gallery's initial operations and programming. Wang invited and hosted Isabel Coats for a campus visit after the gallery opened.
Last week, Wang was named the winner of the Georgia O'Keeffe Museum Book Prize for his book "The Other American Moderns: Matusa, Ishigaki, Noda, Hayakawa." The book prize is given every three years and honors an author who influences ideas about American Modernism. In the book, Wang explores the work of four 20th century American artists of Japanese descent and their contributions to American culture and the idea of "Americanness."
"I am grateful for this book prize, as it may bring some attention to my book and, in turn, help bring the artists in the book back into the American art discourse," Wang said.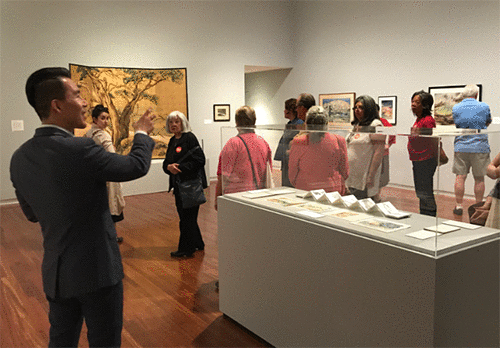 Wang joined UC Merced in 2006 and helped establish the School of Social Sciences, Humanities and Arts ' Global Arts Studies Program (GASP). Wang specializes in pre-WWII American art by artists of Asian descent, with a particular focus on the imagery and lives of minority artists from the Exclusion Era of 1882-1952.
Wang plans to use the endowment funding to purchase art and multimedia equipment for GASP courses and public use, organize field trips for art events, fund campuswide arts initiatives and programs - including Art Week, which is scheduled for the spring 2019 semester - and provide internship opportunities in the arts. Wang will also use a portion of the endowment funds for scholarly travel, including a recent presentation at the Smithsonian National Portrait Gallery's symposium celebrating the museum's 50th anniversary.
Wang has authored three books, with his most recent, "Chiura Obata: An American Modern," providing a retrospective of work by Chiura Obata, one of the most prominent Japanese-American artists of the 20th century. An exhibition Wang curated has already made stops at UC Santa Barbara and the Utah Museum of Fine Arts. It is scheduled to be on display at Okayama Prefectural Museum of Art in Japan starting in January, with exhibitions at Sacramento's Crocker Art Museum and the Smithsonian American Art Museum in Washington, D.C., set for 2019 as well.
Professor Ignacio López-Calvo has been named the Presidential Chair in the Humanities . The $1 million endowment will provide about $40,000 a year to support López-Calvo's Latin-American studies research, graduate students and related needs. The endowment will also support the annual international conference López-Calvo organizes on East-West relations. The conference is now in its 11th year and will take place in Poland in 2019.
The conference has previously been held in such countries as Morocco, Russia, Japan, and South Korea. The endowed chair money will help pay for keynote speakers, as well as for bringing some guest speakers in Latin-American studies to the UC Merced campus.
Such events are critical for UC Merced students, he said, because they offer exposure to perspectives and ideas they might not otherwise have.
López-Calvo's research focuses on two inter-related issues - cultural production by and about Latin American authors of Asian descent and the literary and cultural representations of the relationship between human rights, racialization, gender, migration and authoritarianism.
"Brazil has the largest Nikkei (Japanese emigrants and their descendants) community in the world outside Japan," he said. "Until recently, Asians have been a forgotten population in the Americas, but this is becoming a far more widely studied field."
He wrote the first book on the Latin American authors of Asian descent in 2009 and has since written three more on the subject. He is now working on a book about cultural production by Mexican authors of Asian ancestry. López-Calvo has single-authored eight books in total and has edited eleven more.
Endowments help attract stellar faculty in a variety of fields, and they also help retain senior faculty members. López-Calvo joined the campus in 2008 and served as director of the Center for the Humanities for three years. His wife, Tonya López-Craig , is a lecturer, and both are with the School of Social Sciences, Humanities and Arts . The Presidential Chair in the Humanities is a five-year appointment with the possibility of a five-year renewal.