UC Merced staff members play an important role in supporting the campus's mission. Many go above and beyond the call of duty to support students, faculty, academic programs and the community at large. Each year, the university honors exceptional staff members for their outstanding achievements and meritorious service with the Staff Excellence Awards.
During this month's Staff Convocation, Staff Assembly leadership and Chancellor Dorothy Leland announced the 2018 Staff Excellence Award winners. Each recipient received a crystal award and $500 (subject to tax). Each winner's name will be added to a perpetual plaque.
This year's winners support faculty members in their research endeavors, serve as mentors, have developed creative ways to improve their work environments and processes and give back to the community through public service.
Community Involvement and Public Service — Carla Krogh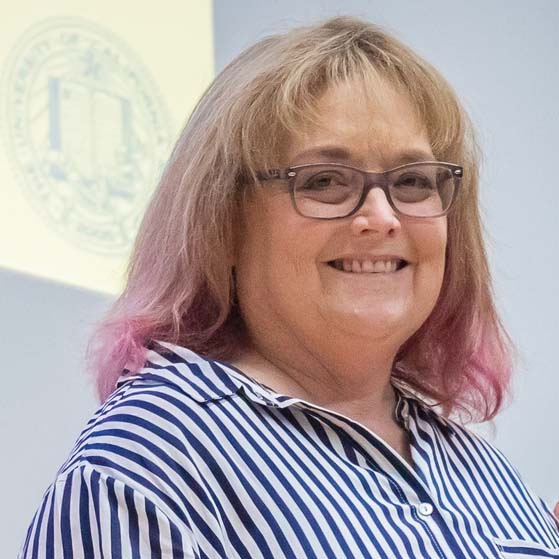 Colleagues say Carla Krogh's commitment to the local community is an inspiration to all who know her. A founding staff member, Carla goes out of her way to welcome new staff members from outside the greater Merced area and introduce them to local people and events.
For the past eight years, she's served as an advisor to UC Merced's Omega Delta Phi fraternity and has taken on the role of being a surrogate mom to students. She routinely encourages students and staff members to organize and/or participate in a host of community service projects including the city of Gustine's annual Veterans Day parade and singing holiday carols to seniors at local assisted living centers.
But Krogh is most known for her passionate community work with the Merced Special Olympics. For years, she's coached Special Olympics athletes in basketball, track and golf, taught them technical movements and cheered them on during competition.
Her nominator wrote: "Carla's generosity is boundless, and she does so much to make our community a better place to live and work."
Creativity — Brandi Lambert
Lambert helped the School of Natural Sciences get a "GRIP" on how it handles graduate student data and ended up improving a key process. Brandi designed and created the school's Graduate Reporting and Information Platform (GRIP), which centralizes data for graduate student recruiting and admissions, funding and employment, and general student information.
During the last academic year, Lambert created a section in GRIP that manages annual committee meetings, preliminary exams and advancement to candidacy, and created an automated process for offer letters to admitted graduate students. These examples represent only a few of GRIP's applications, and since its implementation, the improved work flow and made certain tasks much more efficient. GRIP has been so successful that it will be implemented campuswide.
"Her creativity drove this project," said the person who endorsed Lambert's nomination. "I don't think we can stress enough the value this system will have in supporting the entire campus. Brandi single handedly created a system that will revolutionize graduate student processing."
Organizational and Leadership Abilities — Alexis Valle-Arevalo
As a research administrator within UC Merced's Sierra Nevada Research Institute (SNRI), UC Merced alumna and staff member Valle-Arevalo manages 46 sponsored research grants. It's a lot, but the leadership skills she developed as a Bobcat are helping her and the university.
Colleagues describes Valle-Arevalo as a key person who's spurring organizational and workflow change within SNRI. Last summer, she suggested that SNRI host a policy and procedure retreat to review the institute's administrative practices and explore alternatives to improve service to clients. The result: SNRI adapted various practices that improved workflow.
She's also conscientious about sharing information. When a graduate student was tasked with coordinating UC Merced's first UC Water Academy – a course led by UC water experts to train California's next generation of water leaders – instead of just giving the student a list of approved and restricted items, she took the time to have a conversation with the student to help him or her effectively navigate research university protocols and procedures.
"Alexis reminds me of the great minds that not only allow UC Merced to be what it is but to grow and flourish into a prestigious world-class research university where excellence is supported," her nominator said.
Outstanding Customer Service and Job Performance — Leann Nascimento
As management services officer and grant manager for UC Merced's Health Sciences Research Institute (HSRI), Nascimento oversees 33 grant awards and operational funds for the Blum Center, medical education and HSRI gift funds. Although her workload has increased in the past four years, she's managed keep up with no increase in staffing support.
Faculty members in HSRI describe Nascimento's performance as uniformly and unanimously positive, and they've expressed confidence in her abilities as a problem solver. She manages their grants, hires personnel and finds creative solutions to challenges with ease. To help others on campus who manage grants or serve as a management services officer, Nascimento shares information and best practices. This year's she's a mentor in the CAMP program.
"Leann has created a working situation that is professional and effective," her nominator wrote. She is respectful and honest with the staff she supervises and supports staff by allowing them the freedom to innovate and perform their jobs while effectively monitoring their performance and ensuring they are meeting their obligations."
Manager — Michelle Snyder
After many years of planning, UC Merced transitioned to UCPath, the UC's new payroll system. Snyder and her team worked tirelessly for months to get the campus ready to ensure UC Merced employees got paid on time and accurately.
Launching UCPath required Snyder to run an entirely new payroll system without the luxury of having any previous model to follow. She navigated the new system by using her institutional knowledge of the campus's former payroll workflow processes.
Snyder set agendas and developed critical content for meetings and numerous campuswide communications for various stakeholders across all levels of the university. She handled it all while simultaneously coordinating with the UCPath Center in Riverside.
She developed new payroll workflows and provided technical advisory support to other campus departments so they, too, could develop process workflows to best facilitate UCPath's implementation.
"Michelle has been a tireless champion of staff, faculty and students to ensure an effective transition to UCPath," her endorser wrote. "Nights, weekends, and even over the holiday break, Michelle was working to ensure that all of us were paid."