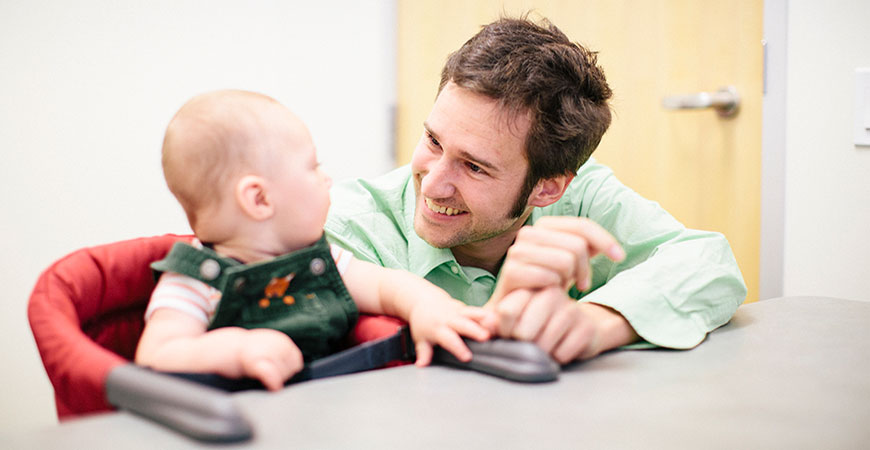 Psychology Professor Eric Walle 's Interpersonal Development Lab will recruit local infants and mothers as an important and unique part of a large-scale study focusing on the development of young children.
Led by scientists at New York University and Pennsylvania State University, the Play and Learning Across a Year (PLAY) project involves 65 researchers across the United States and Canada and is funded by a $6 million grant from the National Institutes of Health.
The researchers will study behaviors of more than 900 American infants and mothers in their homes to build a first-of-its-kind body of data on developmental topics from language, movement and gestures to gender, object play and emotion.
"This project is incredibly ambitious, but it is the type of collaborative research that has the potential to be impactful for the field for decades to come," said Walle, with the Psychological Sciences Department in the School of Social Sciences, Humanities and Arts .
UC Merced was specifically chosen as one of 30 national data collection sites because it is unique among most other college towns in terms of racial and socioeconomic diversity, Walle said. He and his students will recruit 12-, 18- and 24-month-old children from the Merced community and visit the families in their homes.
"We'll observe one hour of the infant and parent 'in the wild' — that is, simply doing whatever it is they do," he explained. "The observation will also include some structured playtime between the parent and child with a set of toys that will be the same across all testing sites."
"We know that play is central to healthy infant development, but we know almost nothing about what parents and children actually do when they play. The PLAY project will tell us."
All the researchers will collect documentation such as parent report questionnaires, video tours of the homes, digital recordings of ambient noises, detailed demographics and more.
Walle's lab receives $27,394 of the grant for its research in the community and to coordinate a data-collection site for the project. He will work with former UC Merced cognitive science Professor Anne Warlaumont, who is now at UCLA.
Perhaps the most innovative aspect of the project, Walle said, is that each of the coding labs will work on its own specific set of variables.
"My lab will code emotion, but other labs will code language, or motor movements, or object manipulation," he said.
All the separate sets of data will be overlaid with the others to create a running stream of continuous codes for all the variables of interest for each observation. That means a researcher could note the emotion of an infant while she is walking and while the parent is talking because the researcher can see all that data at the same time.
"Of course, no single lab could ever do this because it would take too much time and effort and each lab does not have expertise in all the various domains of development," Walle said. "By pooling the specialties of various labs, we will create an incredibly rich and detailed data set."
The study offers interesting opportunities for UC Merced undergraduate students to be trained in the coding that will be used in all the emotion-coding sites. Students will also learn to code infant-parent observational data and conduct cross-lab assessments to ensure UC Merced's coding matches that of the other labs.
"It's going to produce very high-quality data that is standardized across all testing sites. The advantage of this design is that it avoids a piecemeal approach that could result in subtle, but perhaps meaningful, variability across sites," Walle explained. "In the present study, all the infants can be compared because everyone will be tested and coded in the same fashion. You can imagine how different the homes and neighborhoods might be in Manhattan vs. Ann Arbor vs. Merced, across any number of different factors."
"We know that play is central to healthy infant development, but we know almost nothing about what parents and children actually do when they play," said Catherine Tamis-LeMonda, professor of applied psychology at New York University's Steinhardt School of Culture, Education and Human Development. "The PLAY project will tell us."

Senior Writer and Public Information Representative
Office: (209) 228-4406
Mobile: (209) 201-6255