More than 30 undergraduate students displayed the work they completed as interns in schools and programs across the campus during the recent Student Success Internship (SSI) Research Symposium.
The SSI program, now in its third year, allows departments to design internship positions for undergraduate students who complete professional projects for departments The interns are paired with mentors who provide guidance and advice throughout the projects.
One student served as an outreach coordinator to help spread the word to fellow students about food-security resources.
Another worked with School of Engineering faculty members to determine how to improve motor gear design in electric vehicles to increase efficiency, while one gathered input from campus community members and nearby neighbors to develop a proposal to create trails in and around UC Merced.
The SSI program is designed to create collaborations between undergraduate students and campus administration to enhance young scholars' academic and career development. Students gain valuable experience that relates to their professional goals in an environment that promotes experiential learning.
The internships last about eight months, during which students can earn up to $4,000 for their work. Program funding comes from the UC Office of the President, the Office of Undergraduate Education and the Division of Student Affairs.
The program is open to undergraduates who are enrolled for at least one semester at the time of application and have a minimum of a 3.0 GPA. Applicants must be in good standing academically and in terms of conduct, be able to carry a full course load and still be able to devote 10 to 18 hours weekly to the internship.
The application process for the 2018-19 program is expected to launch in early September.
Campus Climate Office Awards Grants to Four Projects
The Office of Campus Climate announced the recipients of the 2018-19 Diversity, Equity and Inclusion grants .
Grant recipients submitted proposals for projects that enhance the campus's culture as an equitable and inclusive place to study, conduct research and work. Each proposal selected is eligible to receive a one-time award of up to $5,000.
Advancing Faculty Diversity: 2018 UC President's Postdoctoral Fellowship Symposium - The one-day gathering in the fall will feature current fellows from a range of academic fields.
Ancestral Knowledges and Collective Healings: A Living Hxstories Project - A series of professional development workshops will help staff members develop a better understanding of the Spanish language for communicating or translating academic terms from English to Spanish.
Language Accessibility Committee:  Offer professional development workshops that will help staff identify resources used to correctly translate communications from English to Spanish to for the campus' Spanish speaking guests.
Merritt Writing Program Diversity Initiatives Committee: The committee will provide professional development for MWP faculty with a focus on diversity, equity and inclusion in the composition classroom.
Outreach Support and Professional Development for Staff and Faculty of Color Association members: The project will create outreach activities for staff and faculty members, including professional leadership interviews to promote networking and professional growth.
More information about each program will be shared when the new academic year begins in the fall.
Staff Assembly Board Nominations Due Friday
Staff members interested in serving on Staff Assembly's 2018-19 executive board have until 5 p.m. Friday, May 4, to submit a self-nomination form .
Staff will vote for candidates in the following positions:
Vice president (three-year term)
Secretary
Finance officer-elect (two-year term)
Co-chair for communications (two positions)
Co-chair for programs, events and outreach (two positions)
Co-chair for fundraising (two positions)
A brief summary of the duties required for each position and an overview of the election process can be found by reviewing the Staff Assembly bylaws .
Staff members can cast their votes from May 14 through May 25. Staff Assembly will announce results on May 31.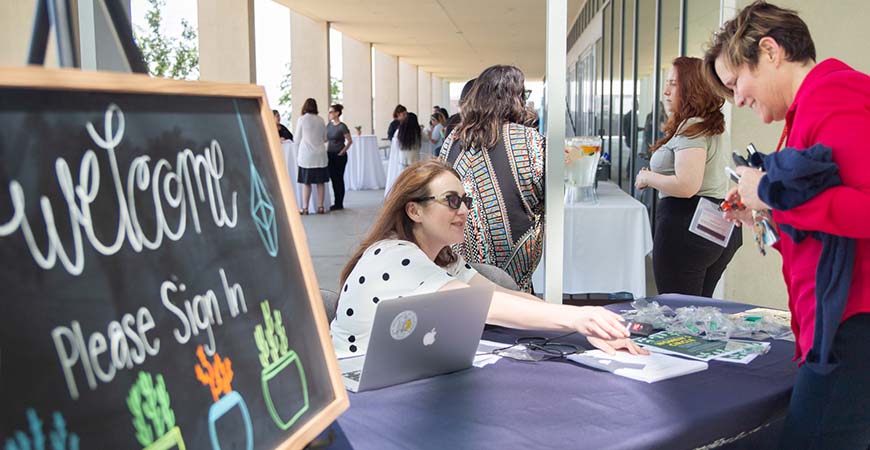 Women's Committee Wraps Up a Year of Successes
The Chancellor's Advisory Committee on the Status of Women (CACSW) ended the academic year on a sweet note by hosting a dessert reception.
Approximately 145 students, staff, faculty members and administrators took a short break from their end-of-the year obligations to snack on treats while celebrating the committee's successes during the past year.
Among the goals the committee achieved: guaranteeing lactation accommodations for nursing mothers; equitable hiring processes in the schools; bringing speakers to campus; childcare accessibility and affordability on and off-campus; and the launch of the "Women We Admire Series."
CACSW leadership also used the occasion to encourage campus community members to apply for the committee , which meets monthly. The group is accepting nominations for open positions for the 2018-2019 academic year. The deadline to apply is 5 p.m. May 30.
Current available positions:
Faculty chair (one position with a two-year commitment)
Staff co-chair (one position with a two-year commitment)
Treasurer/secretary (one-year commitment)
Post-doctoral scholar representation (one-year commitment)
Undergraduate representation (one-year commitment)
General membership (one-year commitment)
Contact CACSW for more information.
UndocuAlly Training Offered This Summer
Campus community members interested in supporting UC Merced's undocumented students can sign up for UndocuAlly training this summer.
Three two-day training sessions occur in May, June and July. Staff, faculty and graduate students are eligible to participate. Those who've not taken the training in the past two years are encouraged to sign up as a refresher.
Each day of training lasts two hours, from 10 a.m. to noon, and participants are required to attend both sessions. All trainings will take place in the Student Activities and Athletic Center, Room 209, on these dates:
May 21 and 23
June 18 and 20
July 23 and 25
Participants must register at least one week before their chosen session. Each training will accommodate 25 participants. Complete the registration form on the Services for Undocumented Students website. Attendees will receive a confirmation and a homework assignment to be completed prior to the training.
Questions? Contact Ariana Mora Mero .