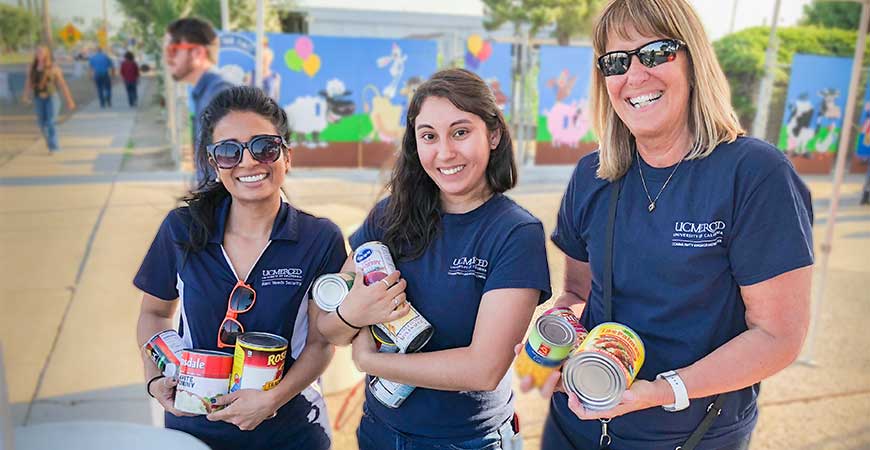 Community Food Drive Nets Over 6,000 Pounds of Food
Community members stepped up to the plate to combat hunger and food insecurity by donating more than 6,000 pounds of food during Mercy Medical Center's "We Care Wednesday" Community Food Drive held on the Merced County Fair's opening day.
A total of 6,640 pounds of food was collected between 5 and 7 p.m. Wednesday, June 6. Fairgoers who donated five or more cans of food gained free admission to the fair, which allowed them to give back to the community and fight hunger while saving a few bucks. All food donations went to the Merced County Food Bank.
This year's food drive was presented by University Industrial Park with support from UC Merced. Nine UC Merced students and staff members volunteered that day to collect donations at the entrance gates, according to Vernette Doty with UC Merced's Community Engagement Center.
"It was a great opportunity for us to meet community members while helping the food bank," Doty said.
The total amount of donations collected this year fell short of the 10,000-pound goal and was lower than 2017's record-breaking 7,088-pound haul. Organizers noted that fair attendance saw a 1.5 percent decrease compared to last year and that this year opening day was the same night 10 Merced-area schools held graduation ceremonies. But Doty noted that contributions received will go a long way to aid in Merced County's fight against hunger.
"It was wonderful to see so many people who were happy to donate, especially kids who were happy and excited to do so."
Campus Food Pantry Serves Students During Summer Months
Speaking of the fight against hunger: did you know that UC Merced's Food Pantry operates over the summer? The monthly food program is available to all students, faculty and staff members and provides a monthly allotment to those who need assistance. To participate, fill out and submit the food pantry sign-up form posted on the Office of Student Life website.
The next distribution dates at Merced Education Center (formerly the Tri-College Center) are: July 20, Aug. 17 and Sept. 21. For more information regarding the UC Merced Food Pantry, email foodpantry@ucmerced.edu.
CARE Office Offers Peer Education Training in June
UC Merced's CARE Office is conducting a two-day peer educator training from noon to 5 p.m. June 23 and 24. Participants will learn to educate others about the root causes of sexual violence and what they can do to educate others about sexual assault, domestic violence and stalking and how to prevent it. Follow this link to RSVP and for location details. Questions? Email Taylor Fugere.