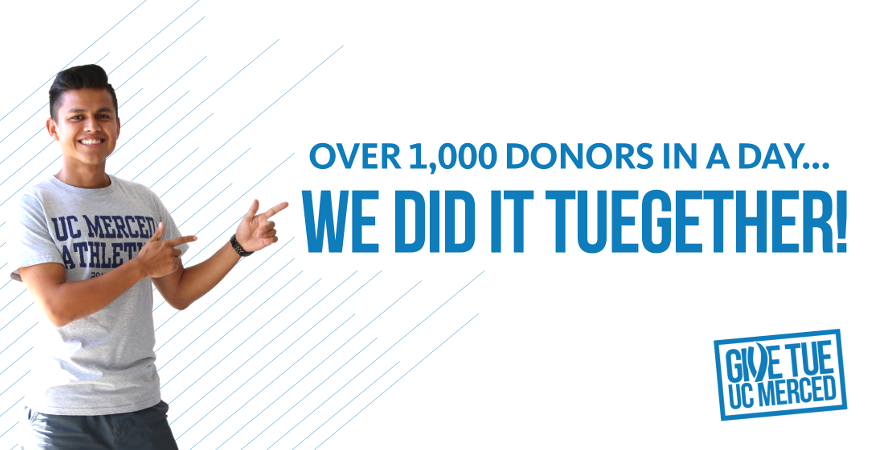 For the second straight year, UC Merced surpassed its goal of 1,000 donors in a single day for the Give Tue UC Merced campaign.
Over $170,000 was raised — with the help of a generous matching gift from Foster Poultry Farms — for the Build the Future Scholarship Fund. In five years of the university's annual day of giving, over $1.5 million has been raised through donations and matching gifts, including a previous gift from the Wells Fargo Foundation.
Over half of the donations came on campus — either at the Give Tue headquarters at the Lantern or through transactions at the campus bookstore and Summits Marketplace — and most of those were from students.
"I've always liked helping people and I feel like I've made a contribution to someone who will need that money in the future," said Jorge Mendieta, a sophomore computer science major.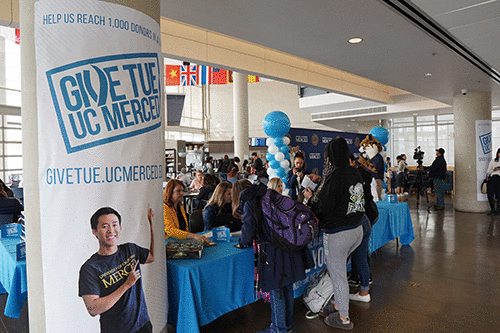 Greeting students at the Lantern was Carolyn Vara, president of the San Joaquin Valley UC Alumni Network and a longtime UC Merced supporter.
In what has become an annual tradition, Vara spent the afternoon matching student, faculty and staff contributions with a thousand $1 bills she brought with her. Several students said Vara's presence contributed to their desire to take part in Give Tue UC Merced.
"I think it's a good way to engage people to donate because if she hadn't come up to me and said 'I'll match your donation,' I probably would have donated a dollar," sophomore English major Arturo Raudales said. "Instead, with her matching, I can make a bigger impact by donating more and having that be doubled."
Senior biology major Kyle Danh agreed that Vara played a role in her donation.
"It makes it feel like what I'm giving is worth it, and I think it is really important for donors to feel like the cause is worth it for you," Danh said.
UC Merced Foundation diplomat Jane Binger, Ed.D., and her husband, UC Merced Foundation Trustee Robert Bernstein, M.D., offered a match of their own to encourage student donations — a $1,500 gift that added $5 to the first 300 gifts from students.
For Raudales and Danh, giving back to the university meant supporting students who have had a path to UC Merced that is similar to their own.
"Knowing that it would go back to the school as a scholarship and helping out students who are like me — first-generation, low-income — I feel like even if it is a small donation, helping out in that aspect would make me feel better and eventually give back to the community," Raudales said.
"If I didn't have financial aid, I wouldn't be able to go to college," said Danh. "So I think it's important that everyone can afford it."
Senior Public Information Officer
Mobile: (209) 643-5418