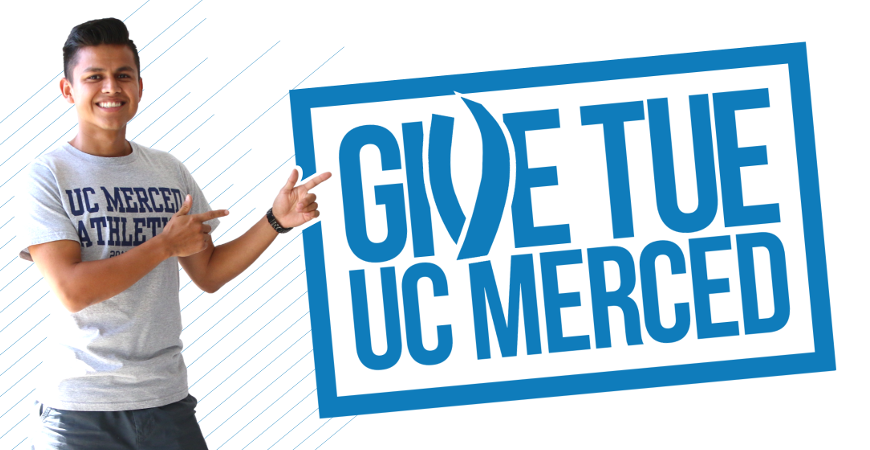 When UC Merced senior Kevin Citalan thought about what he was thankful for as the Thanksgiving holiday grew near, he instantly thought of a turbulent time during the summer.
In August, Citalan, a Los Angeles native, was trying to complete paperwork to apply for a double major in cognitive science and management and business economics. Citalan, a former foster youth who is part of the university's Guardian Scholars program, says it was the hardest three weeks of his academic career.
Citalan says he relied on a stipend he received from Guardian Scholars to help him with basic needs. Funding for that stipend can be attributed to Give Tue UC Merced , the annual event that last year saw well over 1,000 donors contribute $280,000 to support first-generation students, student-athletes and former foster youth, among others.
"It means a lot to know I'm financially assisted through the program that was supported through Giving Tuesday," Citalan said. "It's great knowing that there is help, even if it's just for a while, that can get you through so much. You never know what those small donations can lead up to and how that can affect students throughout their entire life."
Tuesday will be the fifth year of Give Tue UC Merced. The online campaign kicks off at 9 p.m. PST Monday, Nov. 26, and ends at 11:59 p.m. PST on Tuesday, Nov. 27. In addition to giving online, the campus community can donate in person at the Lantern from 11:30 a.m. to 1:30 p.m. Tuesday.
This year's campaign will support the Build the Future Scholarship Fund, and gifts will be matched 3-to-1 thanks to the generosity of Foster Poultry Farms. Once again, UC Merced is aiming to surpass 1,000 donors in a single day.
'The Valley Looks After Its Own'
Founding UC Merced Foundation trustee George Kelley says the added incentive of matching funds makes Give Tue UC Merced a perfect opportunity to support the university.
"Having a matching fund is a lot more meaningful than just making a donation to the university," Kelley says. "It's an exponential gift, so I've been targeting Give Tue UC Merced since the beginning."
Give Tue UC Merced also provided an opportunity for local businessman Tom Eakin to engage with the university.
Eakin, whose company MTC Distributing supplies food products for the campus bookstore, gave $10,000 as part of last year's campaign and plans to give another substantial donation this year.
"I think UC Merced is a beacon of hope for thousands of Valley students who never dreamed of attending a UC school," Eakin says. "Half the battle is being accepted to UC Merced; the other half is staying at UC Merced. That's the beauty of Give Tue UC Merced, it helps the students already attending UC Merced who have trouble making ends meet.
"The Valley looks after its own."
And to encourage a culture of philanthropy on campus, UC Merced Foundation diplomat Jane Binger, Ed.D., and her husband, UC Merced Foundation Trustee Robert Bernstein, M.D., have committed to donating $5 for every student who gives during Giving Tuesday. Binger plans to donate for up to 300 students.
Small Gifts With a Major Impact
Lisa Silveira considers herself lucky to not only see the impact of Give Tue UC Merced through her position in the Office of Financial Aid and Scholarships, but also at home. Silveira is the parent of a UC Merced alum as well as a current student.
She says one of her children was the recipient of a Give Tue UC Merced-funded scholarship two years ago, and it not only allowed for the purchase of books and other class materials, but it also provided a sense of confidence and pride. She sees the same benefits in the more than 450 students who have benefitted from a scholarship funded by Give Tue UC Merced donations.
"Think about when you're in line at Starbucks and the person in front of you pays for your coffee and how grateful and excited you were to be a recipient of that act of kindness," Silveira says. "Now think how you can make that feeling happen for a student who may be just struggling to get by. It may just be $5 out of your wallet, but think of the effect it will have overall.
"By helping a student obtain their academic goals and become a UC Merced graduate, we have planted the desire for them to return that kindness once they are an alum and give back to the campus community that helped mold them into the person they are today. You may not know how much of an impact your gift may have or how far reaching the effect may go into future generations, but I do know it counts."
Sam Fong ('09) is among the strong base of UC Merced alumni who see Give Tue UC Merced as an opportunity to reflect on their time as a Bobcat and make a gift for the newest generation of students.
Fong, who serves on the UC Merced Alumni Association Board of Directors and helped lead the campaign to persuade First Lady Michelle Obama to give her first commencement address at UC Merced, says he feels a sense of pride knowing that 1,000 donors in one day is an achievable goal.
"Every gift counts," Fong says. "What matters isn't the dollar amount — this event is all about the idea that any gift you make is important. Our gifts enable thousands of students to succeed and create a better future."