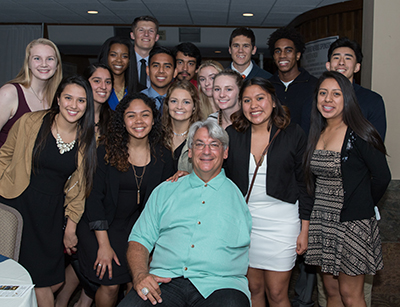 The seventh annual Building Future Champions Dinner and Auction and the 20th annual Ma Kelley Memorial Shoot-Out golf tournament, held over two days last month at the Turlock Golf and Country Club, were a win-win for participants and for UC Merced Athletics.
Keynote speaker Dave Dravecky, a former major league pitcher, spoke to a crowd of over 200 attendees at the dinner and auction. Dravecky pitched for the San Diego Padres and San Francisco Giants before cancer led to the amputation of his left arm. He now works as a community ambassador for the Giants and as a motivational speaker, telling his story of struggle, perseverance and self-worth on and off the field.
The Ma Kelley Memorial Shoot-Out, held the following day, sold out at 144 participants. Funds raised from the events will support the UC Merced Athletics department. 
The university estimated that proceeds from the event totaled more than $93,000, shattering the all-time record set in 2014 by more than 65 percent. The events have raised more than $425,000 since inception in 2005.
"The Ma Kelley events are critical to providing support to the areas of greatest need for the athletics department, including team travel to national tournaments and allowing us to increase our aid opportunities for our student athletes," Director of Recreation and Athletics David Dunham said.
"The consistent support from the Kelley family for the past 12 years has had a tremendous positive impact on our student-athletes and campus. This year was a record-setting year, and we're excited to use these funds to further the growth and development of our student-athletes and coaches as our programs continue to excel on the court and field."
Senior Public Information Representative
Office: (209) 228-4203
Mobile: (209) 628-8263