"Artists to my mind are the real architects of change, and not the political legislators who implement change after the fact." — William S. Burroughs
The economic and educational advantages of having a University of California campus in the San Joaquin Valley are easy to measure — just look at the thousands of alumni contributing to the region, hundreds of staff members boosting the local economy, and professors conducting research that directly and indirectly benefits society.
But there are other, less quantifiable ways in which the university touches the community, like the campaign for more art — especially public art — coming from the School of Social Sciences, Humanities and Arts (SSHA).
The effects of that push are beginning to ripple out.
"Art is a way to open your mind to new possibilities, and the events we've had have gotten people from around the area talking about what art is," Multicultural Arts Center (MAC) Director Colton Dennis said. "It's so good for the community."
SSHA Dean Jill Robbins hopes her school's dedication to art this year will open the doors to a host of new projects in which the community can participate.
"Art isn't a luxury. It's not just for wealthy people," Robbins said. "Art is all around us, and it's part of everything we do. Art can transform this region."
Dennis agrees that art could have such an effect on many aspects of life in the San Joaquin Valley, because it's often through art that people begin conversations about other topics such as society, gender, technology and sustainability.
Art can also prompt people to think differently about themselves, said UC Merced Lecturer Richard Gomez. With help from his art students, Gomez has conceived of and executed several community projects, including a mural on the walls of an outbuilding at McNamara Park in Merced, and murals on the walls of schools in Planada and Livingston.
"The only art they were seeing at school before was graffiti on the walls," Gomez said. "In Planada, we used spray paint to show the students what else they can do with a spray can."
Community Engaged in Art
Gomez and an artist friend designed the murals in part based on people in the school and in the community. Planada residents were involved from the beginning, helping prepare the buildings for their new looks. Schoolchildren, the principal and superintendent, parents, and other community members turned the project into a group bonding session.
"I've never been part of something so beautiful," Gomez said. "People were inviting us into their homes for dinner after the day's painting — when does that happen? It was magical."
And now, instead of seeing their campus claimed by vandals, the children see themselves, their community and the value of working together to create something beautiful.
"Those projects are a perfect example of what I'm talking about," Robbins said. "Those children felt empowered to take back their school. Through art, they got to tell their stories and the stories of the community and their lives. And they now see themselves as artists, instead of as 'illegals' or 'future gang members' or however anyone else might see them."
Robbins and other UC Merced leaders are laying the groundwork for a master plan for the arts at UC Merced. Two sources of inspiration for this project were Merced native Otto Rigan and longtime campus friend Dwight Wigley.
The plan's aim is to "turn places into spaces for art," Wigley said, and those spaces could be anywhere: in the library, on Scholars Lane, in the open spaces between buildings, on interior walls, between classrooms or in the UC Merced Art Gallery.
Wigley, a conceptual artist, and others are not waiting until the plan is complete to share art with the community. They are leading the same kinds of community-campus projects as Gomez.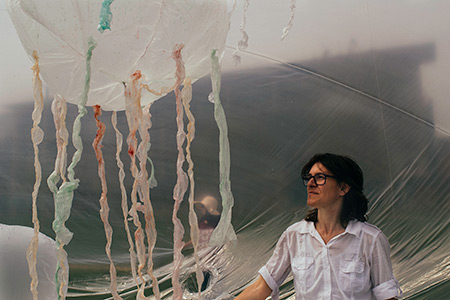 'Alchemy' Creates Artistic Gold
In the spring, Wigley and his wife, Joanne, sponsored an exhibit called "Alchemy" at the MAC. Wigley designed the large piece, but relied on community members to complete it by hand-painting 108 canvas squares that would form large wall panels.
The point of Wigley's idea, he said, was to turn thought into art in a project that could involve anyone of any age, formal art training or not. Dennis said about 25 percent of the people who turned out to paint tiles were first-time visitors to the MAC. "We weren't sure we'd get 108 people," Wigley said. "But we ended up having to turn people away. I was really surprised, but we probably could have done a piece twice that big. People in the community were very receptive to the art."
Even more surprising, he said, was that many participants came with concepts in mind for what they would paint. Each artist got his or her picture taken with the tile they painted, and after the installation came down, the tiles were returned to the artists.
"They got to see this exhibit that they created, in a real gallery, and see how their one piece contributed to the whole," Dennis said. "It really brought different parts of the community together."
Wigley is already working on ideas for another such project next year — maybe a sculpture — that would also bring people together.
The arts push isn't only visual arts, either.
There are lecture series in the arts throughout the year. The Write! Look! Listen! speaker series this fall features Gary Soto, a poet and short-story writer originally from Fresno, reading from his newest books and talking about his work in an event that is free and open to everyone on campus, starting at 4:30 p.m. Friday, Oct. 6, in Room 110 in COB 2. The campus also sponsored an ambitious production last spring when Professor Katherine Steele Brokaw and colleagues put on a massively successful take on the writings of Shakespeare and naturalist John Muir for Earth Day in April, drawing huge crowds to the nature-related words of both master writers. There have been concerts downtown, plays there and on campus, and diverse exhibits by the UC Merced Art Gallery, such as the annual Bobcat Art Show and presentations and workshops by visiting artists of all kinds, from painters to poets, storytellers and others.
Professor ShiPu Wang, who founded the gallery in 2011, said the two or three exhibitions there each year have so far drawn about 3,500 visitors from the community and the campus to see the diverse work of artists from all over the world.
Wang will offer a lecture at 7 p.m. Sept. 14 at the MAC as part of the Global Arts Studies Program (GASP) lecture series. In the lecture, based on his new book, "The Other American Moderns: Matsura, Ishigaki, Noda, Hayakawa," Wang will examine the work and life of Miki Hayakawa, a California artist whose "lost" paintings took him to Japan, New Mexico and into the home of a Hollywood movie producer.
He and the MAC this year also hosted displays by UC Merced Artist-in-Residence Olga Diego, who traveled here from Spain for a six-month appointment as a teacher and artist. Diego's exhibits at the MAC included "Air: Art in Flight," a performance piece titled "The Bubble Woman Show," and "Drawings in the Sky," and the MAC also hosted a screening of the film, "Dream Machine: A Documentary of Artist Olga Diego," directed by Keith Curry. In the UC Merced Art Gallery, Diego presented "Air," and discussed how she incorporates aspects of engineering — using mediums like plastic, LED lighting and motion sensors — into her artwork. 
I knew it would get my creative juices flowing, but I never imagined it would challenge me the way it did. 
Other Lessons in Art
During her time at UC Merced, Diego taught a course on art and engineering, and her small class of students created inflatable displays of various sizes and shapes, including a pop-up event on campus. In April, Diego and her students turned part of the Carol Tomlinson-Keasey Quad into a giant "tank" filled with floating inflatable objects that looked like jellyfish. For several hours that day, passersby were invited to step out of their everyday routines and into this magical jellyfish world.
For their final project, they built a kind of inflatable dirigible decorated with people's ideas about flight, and flew it on the lawn near Lake Yosemite.
"We just don't get experiences like that here," Dennis said.
"I knew it would get my creative juices flowing, but I never imagined it would challenge me the way it did," student Daniela Portillo said. "Having the opportunity to work with Olga was unforgettable. We all learned skills that no other course could have taught us. I hope this opportunity is given to more students with different majors."
Portillo was part of Diego's class in the spring — a unique opportunity that's not offered each year. But, Robbins reminded UC Merced students, anyone from any major can take an arts class.
Why would they?
"Art is integral to science, engineering and technology," she said. "Olga's students learned about engineering, materials, design and how to market a project, among other things."
One of the big lessons for the students in Diego's class was how to handle failure.
"The environment is not always controllable," Diego said. "The pieces we made were ephemeral, and often we were working outside. The wind made some of what we wanted to do very difficult. But we regrouped and reworked the pieces, and in the end, we made art. If we never had any failures, we wouldn't be where we are now, right?"
"Art isn't just about making something pretty," Wang said. "Art is everywhere, and it's very relevant in our everyday lives."
Wang said the new Global Arts Studies major in SSHA takes an integrated, holistic approach to arts education, offering courses from art history and visual studies to ethnomusicology and performance and cultural studies, that investigate how those artistic and creative practices are intertwined with issues of industrialization, colonialism, commercialism and globalization.
"You can look at almost any issue through an artist's lens," he said. "Art teaches you to solve problems, to challenge yourself and to develop your creativity — all critical skills required in nearly every field anyone would work in."

Senior Writer and Public Information Representative
Office: (209) 228-4406
Mobile: (209) 201-6255