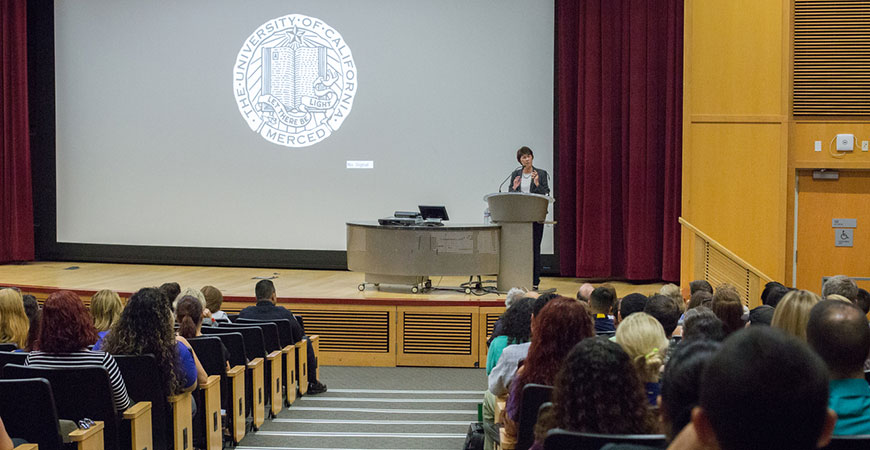 UC Merced faculty and staff members are invited to start the 2017-18 academic year at Faculty Convocation and Staff Convocation.
Staff Convocation will take place from 9-10:30 a.m. Friday, Aug. 18, in the Dr. Lakireddy Auditorium in Classroom and Office Building 1.
Faculty Convocation is scheduled the following week from 3:30-5:30 p.m. Tuesday, Aug. 22, in Room 110 in Classroom and Office Building 2.
The convocations, hosted by the Office of the Chancellor, are annual events that celebrate the start of the new school year. Convocation is an opportunity to recognize achievements and highlight awards received during the previous year while providing a look ahead to the coming academic year.
Chancellor Dorothy Leland will address the audience at both events, as will Provost and Executive Vice Chancellor Tom Peterson. At Staff Convocation, Vice Chancellor of Student Affairs Charles Nies will provide an overview of the incoming class of students and discuss how staff members can support student success.
Also during Staff Convocation, Staff Assembly will announce the recipients of the 2017 Staff Excellence Awards. The awards acknowledge and celebrate nominated staff members for their outstanding achievements and meritorious service to the university. New this year to the Staff Excellence Awards: a new category for outstanding manager. Staff Assembly added the manager category as a result of feedback from staff members.
Staff Convocation attendees will also learn the outcome of the 2017 Chancellor's Innovation Awards. Launched in 2015, the Innovation Awards provide recognition to teams that develop ideas and solutions that reinforce the values of innovation and collaboration across the entire campus community.
Seven proposals made it to the final round, and staff and faculty members were invited to view each team's video presentation and offer feedback to be taken into consideration by the competition's judging panel.
At Faculty Convocation, Vice Provost for the Faculty Gregg Camfield is scheduled to speak in addition to Leland and Peterson. Faculty members who received a promotion or tenure, recipients of continuing lecturer awards and winners of the 2016-17 Senate Awards will be recognized during the event.
Receptions will be held immediately after each convocation. The staff reception will be held in Room 355 of the Leo and Dottie Kolligian Library, and the faculty reception will be held in the first floor lobby of Classroom and Office Building 2.