Four-year project will nearly double campus size and boost the economy by $1.9 billion in the San Joaquin Valley and $2.4 billion statewide.
The University of California, Merced, today broke ground on the largest expansion project in campus history.
The four-year Merced 2020 Project will add approximately 1.2 million gross square feet of teaching, research, residential and student-support facilities to the existing campus by 2020. The first phase of new buildings is scheduled for completion in 2018.
UC Board of Regents Chair Monica Lozano, UC President Janet Napolitano, UC Merced Chancellor Dorothy Leland, U.S. Rep. Jim Costa, California Assembly member Adam Gray, officials from the city and county of Merced and representatives from Plenary Properties Merced (PPM) and Webcor — the development team — drove the symbolic first shovels. The groundbreaking marks the start of construction of an unprecedented $1.3 billion public-private partnership approved by the UC Board of Regents in July.
The one-time economic benefit of the project is an estimated $1.9 billion in the San Joaquin Valley and $2.4 billion statewide. The project is expected to create thousands of jobs, especially in construction, and hundreds of permanent new campus positions as the university expands, according to economic impact studies commissioned by the university.
"Today we celebrate an investment in the future of UC Merced, the future of the San Joaquin Valley and future of the state of California," Leland said. "The Merced 2020 Project brings tremendous economic growth and allows UC Merced to further fulfill its promise to bring interdisciplinary learning and cutting-edge research opportunities to one of our state's most rapidly growing regions."
The expansion coincides with burgeoning demand to attend UC Merced. Last year, the campus received more than 22,000 undergraduate applications for 2,100 spots, and applications continue to increase each year as the campus gains in popularity.
UC Merced is also becoming known nationally, receiving recognition from top publications and organizations. Only a decade after opening, UC Merced has already been listed among the top 100 public universities by U.S. News & World Report — by far the youngest university to appear in the annual rankings. The campus has also been recognized by Sierra Club's "Cool Schools" list for its commitment to sustainable design and operations, and was ranked fifth in the nation by Washington Monthly for the social mobility it provides to its students.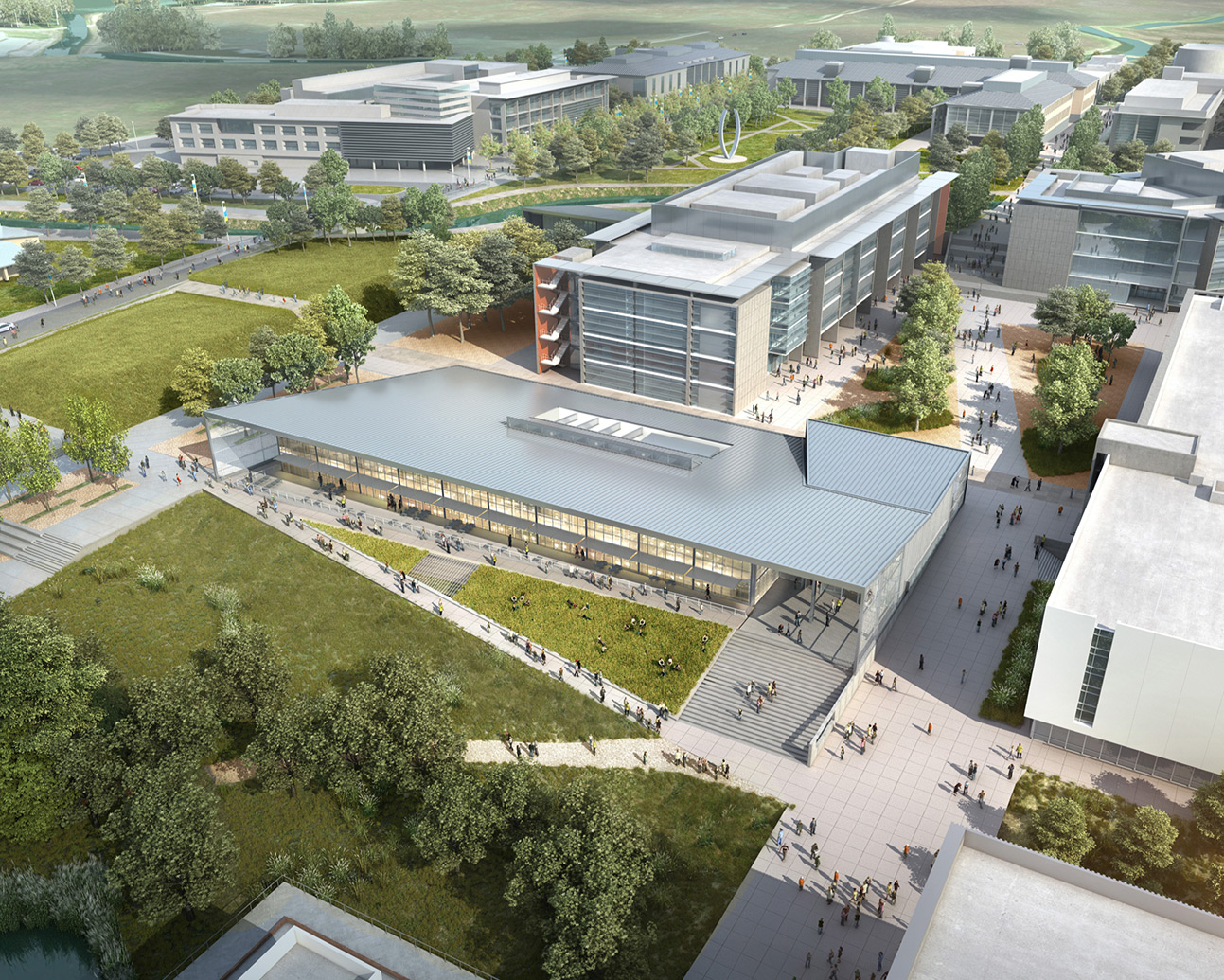 The expansion will enable the campus to continue its path-breaking research in fields as diverse as social justice, climate change, solar energy and drone technology. The new construction is designed to foster the interdisciplinary collaboration for which UC Merced is becoming known.
The campus's growth project is structured as a type of public-private partnership with a single private developer, PPM, responsible for design, construction, operation, maintenance and partial financing of all new facilities over the 39-year term of the contract. The development model leverages limited public funds with private investment and expertise, while meeting UC Merced's exacting requirements for quality, functionality, flexibility and sustainability.
"Plenary Properties Merced is thrilled to be breaking ground on this historic project, which has strong potential to become a model for higher-education design and delivery," Plenary Concessions Executive Chairman Dale Bonner said. "We look forward to completing this project on time and on budget, and continuing our long-term partnership with UC Merced in the years ahead."
The project development team of PPM includes Plenary Group, lead developer, equity provider and financial arranger; Webcor Construction LP, lead contractor; Skidmore Owings & Merrill Inc., lead campus planner; and Johnson Controls Inc., lead operations and management firm.
Images of the Merced 2020 Project are available here.