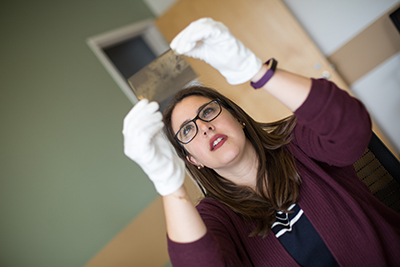 UC Merced has been chosen as the hub of an archiving initiative aimed to document and preserve the history of the UC Cooperative Extension (UCCE).
Lisa Vallen has been hired by UC Merced under a memorandum of understanding with the UC Division of Agriculture and Natural Resources (UC ANR) to lead a one-year pilot project working with UC Cooperative Extensions in Merced, Ventura and Humboldt counties to compile an inventory of local resources, assess existing records and select material that has potential historical or research value.
Barbara Allen-Diaz, UC ANR vice president emeritus, chose to work with UC Merced because the school has placed a high emphasis on the development of digital collections. The project also furthers the growing relationship with UC Merced established by Allen-Diaz when she placed two UCCE specialists at the campus in 2014.
UCCE Merced County director emeritus Maxwell Norton will coordinate with Vallen to collect Merced historical information. Most materials will be digitized and stored on a web platform so they can be accessed by scholars throughout the world. In addition, truly unique documents such as maps and photos will be kept in hard copy form.
Vallen has a range of experience in archives processing and description, physical collections and preservation as well as digitization.
"I am pleased to have someone with her energy, initiative and organizational skills in this position," said Emily Lin, head of digital assets at the UC Merced Library.
After the pilot is complete, UC ANR administrators will consider how to go forward on archiving information from other UCCE county offices.