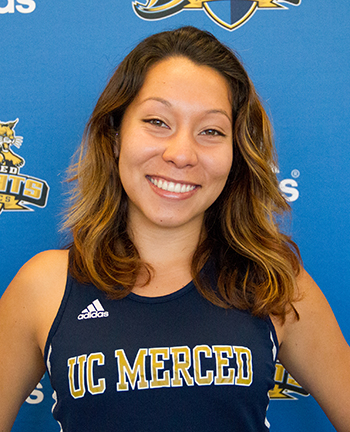 Junior Sammantha Fajardo wasn't satisfied with merely representing UC Merced on the cross country course, so she stepped up to represent the university's student-athletes at the national level.
In April, Fajardo will attend the National Association of Intercollegiate Athletes (NAIA) Conference as the Cal-Pac Conference's representative in the newly formed Association for Student Athletes. 
David Dunham, director of Recreation and Athletics, believes Fajardo will bring a different perspective to the convention. 
"UC Merced is a larger and more diverse institution than most of the NAIA members, and there are different demands on students at research institutions," he said. "She will bring back a lot of information for our campus as she gets to experience the NAIA at a different level than just a competing student-athlete."
As an at-large representative for the Cal-Pac Conference, Fajardo works with NAIA board members to provide input on legislation and policy changes. She is a voice for the conference's student-athletes, making sure that their safety, health and well-being are taken into consideration.
Leadership is nothing new to Fajardo. As a freshman, she realized she wanted to help her fellow athletes, so she joined the Student Athlete Advisory Committee (SAAC) and served as vice president. The next year, she became president of SAAC and organized opportunities for student-athletes to work on professional development.
She is also captain of the women's cross country team and a member of the Council for Student Athletes.
"Helping student-athletes was one thing that was always on my mind, and being on SAAC was the perfect opportunity for me to do that," she said. "When my advisor approached the committee to see if anyone was interested in the opportunity to serve as the Cal-Pac representative for the NAIA, I did not hesitate. It was what I wanted to do, but on a larger scale."
Running and representing student athletes takes up a good amount of Fajardo's time, but the psychology major with a double minor in art and writing also holds two part-time jobs.
"Without my planner, I would not be able to keep track of when I have to be a cashier at the gym or go coach at El Capitan High School or go to my coordinator meetings for new student orientation," Fajardo said. "I schedule in everything, from my morning practice to my late-night shifts at the gym. I make sure that everything, including my ASA meeting calls, are in there. I even schedule in meals and sleep!"
Fajardo, a North Hollywood native, tried out for the volleyball team in high school. When she didn't make the team, she decided to try cross country, and the rest is history.
"I believe everything happens for a reason, and there was a really good reason I didn't make the volleyball team in high school," she said. "UC Merced was a place where I felt I could continue my athletic career, and I was so excited when I was able to join the team."
Senior Public Information Representative
Office: (209) 228-4203
Mobile: (209) 628-8263