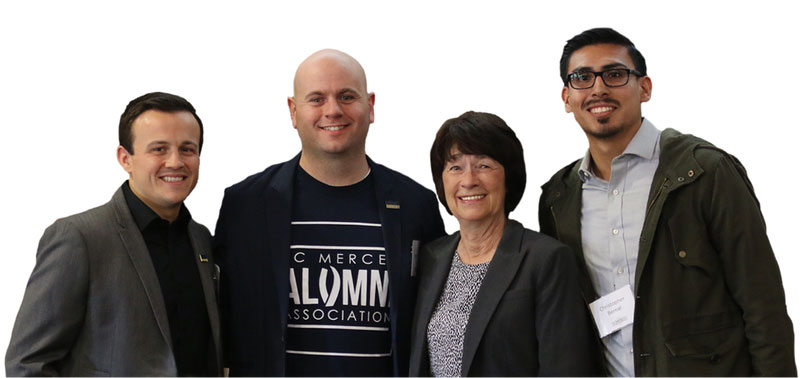 Management and business economics major Christopher Bernal is leaving a legacy at UC Merced, as the first student to establish an endowed scholarship to support other UC Merced students in their quest for college degrees.
Bernal and two alumni have each committed $10,000 as part of Giving Tuesday, an international, 24-hour fundraising drive Nov. 29. Thanks to a 3-to-1 match from Wells Fargo and Foster Poultry Farms, each gift will be quadrupled, bringing them to $40,000.
A member of the campus' Student Alumni Association (SAA) since his first year, Bernal is dedicated to creating a philanthropic culture on campus. Last year, he served as the organization's president and was instrumental in establishing the SAA Scholarship Fund, which is one of 14 funds designated for Giving Tuesday.
"It has been my dream since I was a freshman to start a scholarship fund to support my peers," the Lancaster native said. "I don't have the money now, but I know nothing else would make me as happy as helping future students be successful."
By setting up the Christopher Michael Bernal Scholarship Fund, he is dispelling the myth that individuals have to wait until they graduate and succeed professionally to start giving to the campus. For the next five years, he will pay a manageable monthly amount until he reaches $10,000. Then his gift will be matched to create a $40,000 fund.
"I hope that I am able to change the campus culture so that it's common for students to support students," Bernal said. "I'm excited to bring my journey with SAA full circle and leave a legacy at UC Merced."
UC Merced Alumni Association (UCMAA) President Keith Ellis also wanted to lead by example, so he is establishing the Ellis Family Endowed Scholarship.
"A culture of philanthropy is how we as a community support the shared mission and vision for UC Merced," he said. "With the next phase of campus growth on the horizon, philanthropy is how we will support student success and innovative research."
Ellis graduated in 2012 with degrees in political science and management and went on to earn a master's degree in higher education leadership and policies studies from Sacramento State University. Now, he's helping students succeed working in Disability Support Programs and Services Cosumnes River College in Sacramento.
"As a student with a disability and the first in my family to attend a university, I struggled academically and financially," he said. He hopes his support of the Giving Tuesday campaign will help lessen the burden for students like him and also encourage others to donate.
Alumnus Brandon Ruscoe credits UC Merced for equipping him to run his family's Merced-based real estate business through the housing market crisis.
He learned about the 3-to-1 match as a member of the UCMAA Board of Directors.
"I could not pass up this opportunity to share my good fortune with fellow Bobcats who are striving to succeed at UC Merced," said Ruscoe, who graduated in 2009 with a degree in management. "This match allows us to make an exponentially positive impact in a very short time."
The Ruscoe Family gave $10,000 to establish the Ruscoe Family Scholarship dba Merced Yosemite Realty to help students focus on their academics and worry less about finances as soon as Fall 2017.
Ruscoe also sees the gift as a way to support fellow alumni.
"By reinvesting in UC Merced's current high-achieving students, you invest in your own degree," he said. "If we support each other, we strengthen the UC Merced brand."
UC Merced's alumni giving rate of 11 percent was recently ranked No. 47 among public universities and No. 102 overall by U.S. News and World Report, ahead of many schools with much larger and more established alumni bases. The campus's alumni giving rate ranked higher than all other UC campuses, except UC Santa Barbara and UC Berkeley.
"Alumni giving participation is a strong symbol of our passion and dedication to the place that empowered us and propelled us to where we are now," Ellis said. "Philanthropy goes beyond simply making a financial donation — it is a relationship rooted in stewardship to ensure we achieve measurable shared successes."
Donations to this year's Giving Tuesday campaign can be made starting as early as 9 p.m. PST Nov. 28, and anytime until midnight Nov. 29.
Though anyone can donate to the Giving Tuesday UC Merced campaign on Nov. 29 and have their donations quadrupled, the UC Merced Endowed Scholarship Match Program is only available to UC Merced alumni, students and staff and faculty members. Thanks to the generous support of Foster Poultry Farms and Wells Fargo, up to 10 $10,000 gifts, either made payable as an outright gift or pledge, will be eligible to receive a 3-to-1 match. For information, contact Alumni Relations at 209-228-ALUM (2586) or email alumni@ucmerced.edu.
Giving Tuesday UC Merced from GiveTueUCM on Vimeo.
Senior Public Information Representative
Office: (209) 228-4203
Mobile: (209) 628-8263