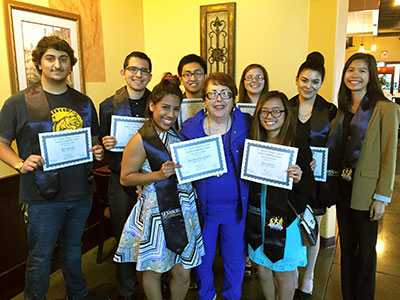 Eleven UC Merced students were honored during a recent dinner for completing the Margo F. Souza Leadership Center certification program.
"The inaugural graduation dinner was four years in the making, but I'm super excited," said Steve Lerer, assistant director of Student Life and the center's coordinator. "These students have completed a minimum of 30 hours of leadership training."
The center was established in 2014 through a $1 million donation by Souza, a prominent businesswoman. The goal of the center is to train students to be leaders and entrepreneurs.
The following graduated from the program this year:
Mercy Miana
Brandon Huber
Alyssa America
Reza Jahanbani
Jannani Krishnan
Brenda Capurro
Laura Hernandez-Rodriguez
Gustavo Razo
Chhaiyudh Tann
Faustina Barnard
Rachel Fang
The certification program is made up of three tiers. The first is the Bobcat Leadership Seminar, with seven hours of training focused on the Social Change Model of Leadership Development. The second tier, the PAWS Leadership Seminar, involves 12 hours of training focused on the topics of passion, action, wellness and servant leadership. The third tier, the Leadership in Action Capstone, provides an opportunity for students to put what they learned into action by planning and implementing six-month community engagement projects and partnering with campus clubs to accomplish their plans.
At the end of the program, each student submits a five-page paper reflecting on what he or she learned and how the growth in leadership knowledge, skills, capacity and self-efficacy will be used to make a positive impact in the world.
"We've had tremendous growth in our first and second tiers over this past year, and we are on track to more than double the number of Souza Center graduates in the 2016-17 academic year," Lerer said.
For information, contact the leadership center at lead@ucmerced.edu or 209-228-4228.
Senior Public Information Representative
Office: (209) 228-4203
Mobile: (209) 628-8263