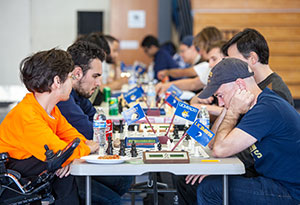 Chess players from across the UC system— ranging from beginners to international masters — convened for the 2016 UC Chess Championship held April 23 at the Joseph Edward Gallo Recreation Center gymnasium.
The UC Merced Chess Club played host to the first UC-wide chess tournament, which was sponsored by the Blum Center for Developing Economies and the Associated Students at UC Merced.
"Bringing the campuses together offers incredible competition and challenges that wouldn't otherwise be possible," said Electrical Engineering and Computer Science graduate student Michael Sanfilippo, who helped organize the tournament. "It provides an excellent opportunity for us to learn and grow so we can perform better in our future matches."
Competitors from UC campuses in Berkeley, Davis and Riverside joined UC Merced's contingent of faculty, staff, students and alumni for a total of 35 participants.
Players competed in six matches each and earned a single point for a win and a half-point for a draw. Prizes of trophies and gift cards, donated by the Blum Center, were awarded to the top campus, the top three players and the most promising beginner player.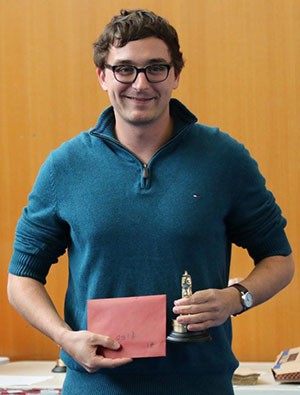 UC Davis earned the campus prize. Individual winners were: 
First place: Maximilian Meinhardt from UC Davis, who is ranked as an international master.
Second place: Karl Tolentino from UC Davis, who is ranked as a national master.
Third place: Max Fitton from UC Berkeley.
Promising beginner: Fatin Nabilah Binti Zainal Abidin from UC Davis.
Director of UC Merced's bookstore and chess club adviser Kevin Storms placed fifth in the tournament, and UC Merced graduate student Abdur Rafay took sixth place.
"The great thing about chess is that we can all play together — young or old, male or female," Storms said. "Your imagination and desire to win is all that is required."
The UC Merced Chess Club meets 3 to 6 p.m. Fridays in the Lantern. For information, email chessclub@ucmerced.edu.
Senior Public Information Representative
Office: (209) 228-4203
Mobile: (209) 628-8263