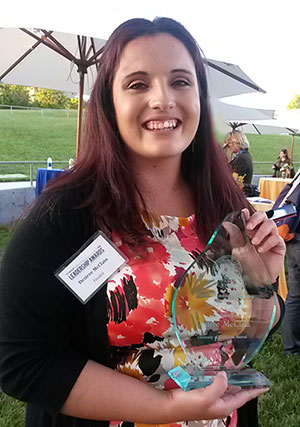 Each spring, the Margo F. Souza Student Leadership Center recognizes and celebrates students, staff and faculty members, and student organizations demonstrating outstanding leadership to the campus and the community.
Thirty campus members or student organizations were recognized across 24 categories during the 2016 UC Merced Leadership Awards held April 28 at the Wallace-Dutra Amphitheater.
"The annual UC Merced Leadership Awards program is a wonderful way for our campus to recognize the hard work of students, advisors and students organizations," Assistant Director of Student Life Steve Lerer said. "I am amazed by the incredible leadership and commitment to the community demonstrated by all the nominees, finalists and award recipients."
Winners, selected by the 2016 Leadership Awards Committee and a campus-wide application review team, include:
Carol Tomlinson-Keasey Award: Desiree Mc Clain
Legacy Award: Thu Tran
Distinguished Leader Awards: Brenda Yu, Aspen Fernando, Eric Chu and Domonique Jones
Inspirational Bobcat Award: Savanna Briggs
Organization President of the Year Award: Mercy Maina
Outstanding Advisor Award: Ross Avilla
Outstanding Graduate Student Award: Danielle Bermudez
Social Justice Leadership Award: Whitney Do
Fraternity and Sorority Council Outstanding Chapter of the Year: Delta Gamma
Professional Fraternity Council Outstanding Chapter of the Year: Delta Epsilon Mu
Fraternity and Sorority Life Outstanding New Member of the Year Award: Andrea Gurrola
Fraternity and Sorority Life Outstanding Member of the Year: Karen Munoz
Contribution to Student Affairs Award: Devonyo Bills, Carli Bardier, Michael Pierick and Jason Davis
Student Organization of the Year: Students Advocating Law and Education
Outstanding New Student Organization of the Year: Society of Physics Students
University Friends Circle Distinguished Volunteer Scholarship: Marqose Saephan
University Friends Circle Community Service Organization Award: Ingenieros Unidos
Margo F. Souza Entrepreneur in Training Team Scholarship: BLOX
Margo F. Souza San Joaquin Valley Mentor of the Year: Fabian Filipp
Program of the Year: "Health Professional Panel" by The American Medical Student Association
Cobi Jones Male Sport Club Athlete of the Year: Brandyn Ryan
Sport Club Female Sport Club Athlete of the Year: Ai-Linh Alten
Intercollegiate Male  Athlete Award: Andy Galvan
Georgette "Ma" Kelley Intercollegiate Female Athlete Award: Courtney Danna
Get more information about individual awards online.
Senior Public Information Representative
Office: (209) 228-4203
Mobile: (209) 628-8263