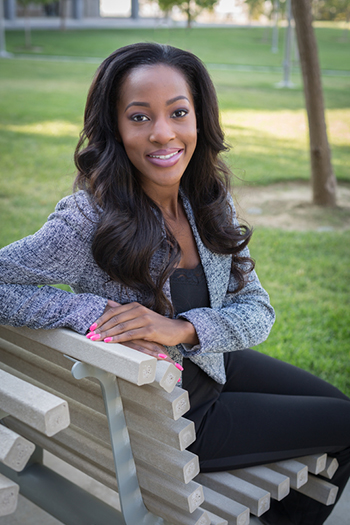 In high school, Domonique Jones knew she wanted to go to college. She also knew it wasn't going to be easy.
Raised by her single mother in Hercules, Jones was the first in her family to consider and ultimately attend college, landing at UC Merced in 2012 at the recommendation of a friend. The challenges were ever-present, but support from family, along with her own drive and a little help, allowed Jones to follow her dream — and excel.
"My mother was an influence in me going to college; she pushed me," the 21-year-old senior said. "Being first generation was definitely a challenge. That first year for me was a lot of adjustment — I had a lot to prove."
She's proven to be anything but an ordinary student. Last spring, Jones — a double major in political science and economics who's minoring in psychology — became the first woman to be elected president of the Associated Students of UC Merced.
Although she got involved in student government during her first year on campus, she never considered running for ASUCM president. But when the opportunity presented itself, Jones embraced it.
Even though UC Merced is still a relatively young school, she was struck by the fact that a woman had never held the title.
"Women's empowerment is something I'm very passionate about," Jones said. "So to have the opportunity was very important to me."
In her brief time as president, Jones has done a lot to shift ASUCM from being a source of funding to dealing more with issues affecting students. She pushed to make access to healthy food options easier for students, and she is working to increase off-campus housing options as enrollment increases at UC Merced.
After the Nov. 4 stabbings on campus, Jones and ASUCM leadership played a crucial role in bringing students and the campus community together for a candlelight vigil in order to help the healing process begin.
Jones attended UC Day events in Sacramento and in Washington, D.C., earlier this year, as a student advocate to help put a face to issues such as funding for the federal Pell Grant program, which helps low-income students with tuition. Jones herself benefited from the UC Blue and Gold Opportunity Plan, which provides grants and scholarships to students.
All of this is leading to Jones' ultimate goal of helping others. Upon graduation next spring, she plans to apply for the Capital Fellows Program in Sacramento, before applying to law school. She'd eventually like to help shape policy, in particular that which gives low-income families and people of color a chance to achieve their goals.
She's using her passion for women's empowerment as her platform in her quest to become Miss California USA. After winning the Miss Capitol Cities USA competition in September, she'll compete for the statewide crown in Long Beach in December. The winner of that contest goes on to the Miss USA pageant.
For Jones, it all comes back to paying it forward, and giving others the same chance she had.
"I'm very passionate about higher education — that it's available to people, and affordable," she said. "I think when you're given an opportunity, you take it and work 10 times harder so that you can pass that along to others in the same situation."