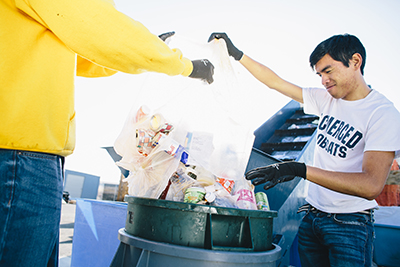 Undergraduate student Andrew John De Los Santos wasn't passionate about sustainability until he started sorting through trash as a recycling and composting intern at UC Merced last fall.
While picking out recyclable and compostable material, De Los Santos began to realize the difference that one person can make. He fanned that initial spark into a proposal to improve sustainability knowledge on a campus already known for its commitment to being green.
In the spring, De Los Santos took first place in the first-ever Chancellor's Advisory Committee's Sustainability Proposal Writing Contest and the top prize of a $250 Amazon gift card. His entry, "Continual Growth Toward Sustainability Education," is a three-phase program aimed at increasing awareness of sustainability among undergraduates. 
The proposal includes: providing information on Move-In Day at the residence halls; the addition of a sustainability session at the ASCEND New Student Success Conference; and the introduction of "Triple Zero" workshops. The Triple Zero Commitment is UC Merced's pledge to consume zero net energy, and produce zero waste and zero net greenhouse gas emissions, all by 2020.
De Los Santos said he's excited to win the competition and to further the cause of sustainability through his ideas.
"That would be my legacy here, and that would be something I would be really proud of," said De Los Santos, who is from North Hills in the San Fernando Valley.
Several other students also were honored for contest entries. In order of ranking, they and their topics are: Tarunraj Amuthan, "Is Microbial Electrolysis the Future of Sustainable Wastewater Treatment at UC Merced?"; Kevin Quintanilla, Christian Cambrelen and Alex Beroza, "Vertical Farming"; and Manmeet Sandhu, "From Waste to Energy."
Tom Hothem, associate director of the Merritt Writing Program and coordinator of the contest, said De Los Santos' first-place entry was thoughtful and well-contextualized. Some portions of the proposal, such as providing sustainability representatives on Move-In Day, may be introduced as early as this fall. The proposal will also be published this fall in the campus's Undergraduate Research Journal.
The contest was designed to push the idea of sustainability and to encourage students to articulate ideas in writing, Hothem said. Many students already are thinking and writing about sustainability in a variety of classes.
"We do a lot to be a green campus, but we still have a long way to go," Hothem said.
De Los Santos, who is majoring in mechanical engineering, is part of the sustainability solution on campus. 
First, he makes the roughly 25-minute commute from home to campus on his bicycle. Once there, he and other interns sort through the trash from the upper campus to remove the recyclables and compost material — generally about two-thirds of the total collection. 
De Los Santos, who will be a junior this fall, said he learned a lot about sustainability in preparation for the job interview.
"When I learned about sustainability, I grew to love it," he said. "It seemed like something that is really important to the planet, and everybody can be part of the solution."
De Los Santos also now sees ways to improve sustainability efforts, partly through outreach and education. The campus makes extensive use of recycling and composting bins, but in an online survey of about 60 students, he discovered that only about 10 percent felt extremely confident about sorting trash into the correct bins.
Reaching those students early, and with the right information, can help improve that percentage, he said. On Move-In Day, sustainability representatives can help newcomers learn to sort their waste and inspire a commitment to going green.
"I want incoming students to know that recycling isn't just a good thing to do, it's a normal thing to do," he said.

Executive Director of Public Relations
Office: (209) 228-4408
Mobile: (209) 681-1061