There's no offseason for giving back, and that's exactly how the UC Merced men's and women's soccer teams felt as they recently reached out to help the local community.
The men's soccer team headed to the Boys and Girls Club of Merced in February, where the Bobcats taught the children soccer skills before an intense match with the youngsters. The student-athletes stressed the importance of academics, especially gaining a college education.
UC Merced Athletics has partnered with the Boys and Girls Club to help promote qualities such as integrity, sportsmanship and responsibility through playing sports.
"It was great getting involved here, especially in my hometown," forward Cody Golbad said. "I'm looking forward to coming back and hopefully having a positive influence on these kids. I want them to know what they are capable of — not just in sports, but also academically — if they put in the right effort."
Keeping up with the theme of balancing academics with physical activity, the men's soccer team also visited Franklin Elementary School in Merced earlier this month to participate in a Read Across America event on Dr. Seuss' birthday. The team read classic Dr. Seuss books to the children while stressing the importance of being a responsible student. Then the team spent time playing soccer with each grade level.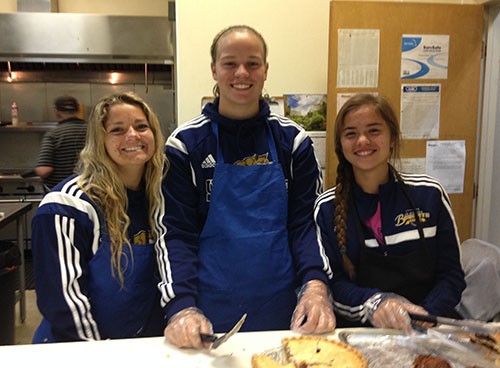 The women's soccer team headed to the local Salvation Army last week to serve breakfast at 6:45 a.m. They helped clean tables and wash dishes, and then spent time talking with some of Merced's less fortunate citizens.
"It was an eye-opening experience," goalkeeper Gabby Vinco said. "We're so privileged to be attending UC Merced and playing a game we love. Sometimes it's easy to forget there are people who struggle to put food on the table, so it was really nice to get out here and give some of our time to make their lives a little bit easier."
Senior Public Information Representative
Office: (209) 228-4203
Mobile: (209) 628-8263