The value of having a University of California campus in the heart of the San Joaquin Valley is that its students, staff and faculty can affect the community as much as the community affects them.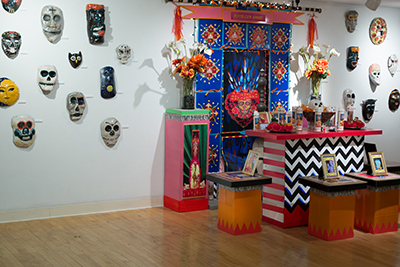 Take Richard Gomez, for example. He's a UC Merced arts lecturer and a parent who has seen firsthand how arts and culture have been disappearing from K-12 classrooms. Rather than make commentary about it, though, he's taken the initiative to do something.
In collaboration with Spanish instructor Yolanda Pineda-Vargas, Gomez offered themed arts and culture education to students at Selma Herndon Elementary School in Livingston. The result is not only shared learning, but a public exhibit and participation in this weekend's Día de los Muertos (Day of the Dead) celebration in Merced.
Gomez and Pineda took students from their classes — Arts 171: Art for Social Change and Spanish 11: Spanish for Heritage Speakers II — to the Livingston school, where they helped first- through fifth-graders create altars and skulls according to the tradition of the Mexican holiday, which focuses on remembering loved ones who have died.
"The project has exposed students of all backgrounds to the arts in a relevant light while strengthening cultural identity among participants." Gomez said. "It was a beautiful sight, small groups of kids collaborating and engaged, making their own artistic decisions — always a good day when I see kids painting."
The skulls, or "calaveras," were created from 4-foot-tall sheets of butcher paper that the pupils painted and embellished. The skulls were stuffed and attached together to create 23 three-dimensional works now hanging in the Merced Multicultural Arts Center as part of its holiday exhibit.
"So much of what kids do today is constrained to a small sheet of paper; they fill out worksheets, take tests and color in books," Gomez said. "This gave them the opportunity to 'work large' and actually paint with large brushes — things the average public school student never gets to do."
Pineda's Spanish 10 students created an altar at the Multicultural Arts Center and the Spanish 11 students taught a lesson about the holiday in Spanish to give students perspective and background on its meaning. But to Pineda, the impact was even bigger.
"It was a great opportunity for our students to talk about college and their journey to UC Merced," she said. "It was also a great teaching point for my students. We had class discussion about the school visits, and how the exercise helped them apply and improve their language skills."
Having watched Merced's Día de los Muertos celebration grow year after year, Gomez said it's meant a lot to his students to participate in something of such great impact to the community.
"Students from kindergarten through college, many who don't know much about art, collaborated together and now get to have their creations in a legitimate art show exhibited in a real gallery that's open to the public," he said. "That's the kind of experience that unlocks potential."
The Día de los Muertos art show is on display through Nov. 15 on the top floor of the Merced Multicultural Arts Center, 645 W. Main St., Merced. The gallery is open from 11 a.m. to 6 p.m. Tuesday through Friday and from 10 a.m. to 2 p.m. Saturday.
The Día de los Muertos reception is from 5 to 7:30 p.m. Sunday, Nov. 1, with a candlelight procession beginning at 6 p.m. The reception is free to all ages and includes catering by J&R Tacos and bread from Panadería Guadalajara, face-painting and more. For information: 209-388-1090.