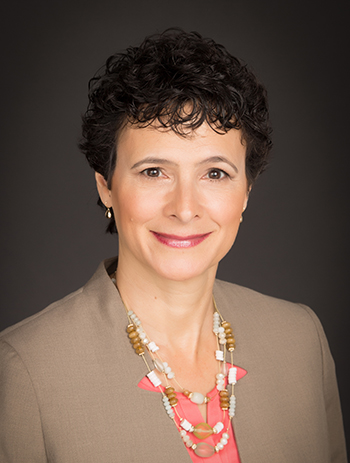 Jill Robbins has been named dean of the School of Social Sciences, Humanities and Arts (SSHA) at the University of California, Merced, the university announced today. She will begin serving full time in that capacity on Jan. 1, 2016.
Robbins joins UC Merced after more than 20 years as a university professor or administrator at three other prominent American universities. For the last eight years she has served at the University of Texas at Austin, where she has chaired the Department of Spanish and Portuguese since 2010. She is also professor of Spanish Literature and Culture at UTA.
Robbins replaces Dean Mark Aldenderfer, who is returning to the professoriate after five and a half years as SSHA's top administrative officer. SSHA is the largest of three schools at UC Merced, encompassing approximately 41 percent of the university's undergraduate student body with declared concentrations.
In appointing Robbins to this position, Provost and Executive Vice Chancellor Thomas Peterson identified key attributes of Robbins' career that made her an ideal match for UC Merced.  
"In her role as UTA's chair of the Department of Spanish and Portuguese, Jill has achieved considerable national attention for her work in creating an interdisciplinary environment," Peterson said in an internal announcement. "Rather than asking the traditional question of how to 'cover the field,' she has focused on how to 'reimagine the field.' Her efforts have resulted in faculty hires and graduate student recruitment that draw on the institutional strength of the entire university. This approach will serve her well as our campus embarks on hiring faculty who can both build our foundations and strengthen key pillars of institutional research."  
Robbins is a widely published author and editor of, or contributor to, a wide range of peer-reviewed books and articles in her fields of interest. She has done numerous book reviews and translations of scholarly works and has given dozens of formal presentations, conference papers and invited talks on topics related to her academic pursuits. Her research interests include contemporary Spanish poetry, trans-Atlantic studies, globalization and migration, cultural issues, and studies in gender, sexuality, violence and memory.
She is past president of the International Association of Hispanic Women's Literature and Culture and past or present board member of several editorial boards and committees. She has also organized or served as a session chair at various conferences in her field.
"I am thrilled to be joining the leadership team at UC Merced as it enters its second decade of operation and begins to sharpen its academic focus in the years ahead," Robbins said. "The School of Social Sciences, Humanities and Arts will be a big part of that process. I look forward to working closely with the school's distinguished faculty to make our contributions stand out and achieve distinction for the campus as a whole."
Robbins' appointment also marks her return to the UC system. She was associate professor of Spanish at UC Irvine from 1997 to 2007, and she also served as associate dean for undergraduate studies in UCI's School of Humanities from 2004 to 2007.
Robbins holds a Ph.D. in Spanish literature and a master's degree in Spanish from the University of Kansas. She earned her bachelor's degree in Spanish and economics from Brown University.
Jeff Gilger, professor of psychology and the Carlston Cunningham Chair in Cognitive Development at UC Merced, has agreed to serve as interim dean of SSHA from Aug. 1 until Dec. 31.