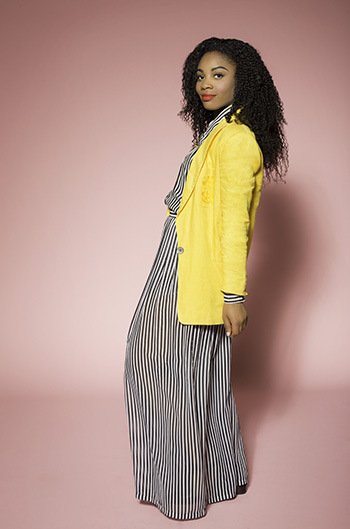 Shavone Charles is combining her love of music and technology to blaze a new trail in social media.
Charles graduated from UC Merced in 2012 with a bachelor's degree in Literature and Cultures, completing internships with BET Networks, Google and Twitter along the way. After landing a full-time position with Twitter, she began setting her sights on creating a special place for music on social media.
As both a rapper and classically trained flautist, Charles's musical interests are varied, and heavily influenced by her family. While her uncle and brothers encouraged her to pursue both classical and rap performance, her parents supplied a vast array of musical interests, from funk to hip-hop.
"My parents are very musical," she said. "Hip-hop is a major pillar in my family."
Charles is no stranger to performance, as she played in her high school marching band and later took her performances to night clubs and open mic nights. She also performed at every talent show held on campus during her time at UC Merced. 
In 2011, while participating in the UCDC program in Washington, D.C., she accepted a unique opportunity to perform at Howard University's homecoming, where she opened for rapper Talib Kweli. Her time at BET Networks also allowed her to participate in coordinating the BET Awards and interface with a number of hip-hop artists.
Charles's interest in technology started during her internship with Google, where she acted as a student ambassador. As a liaison between Google and the UC Merced student body, it was her job to share new educational products, hold seminars for students to learn about new apps, and speak to them about open internship opportunities.
It was Charles's time at Twitter, though, that allowed her to combine these two interests. There, she discovered the impact of citizen journalism and saw social media as a significant way to measure what the public cared about at a given moment. By emphasizing the importance of social media as a lifeline between musical artists and their fans, she was able to create an entirely new role for herself on Twitter's public relations team.
This focus on bringing a fresh outlook to all of her projects is ingrained in Charles. With two entrepreneurial parents and a grandfather who left Trinidad to start a new life in San Diego, she learned to be fearless of new prospects at young age. As a first-generation college student, she was excited to challenge herself in an unfamiliar environment.
That spirit is what drew her to UC Merced.
"I really liked the fresh, new feel of the campus," Charles said. "It was somewhere I could be a trail blazer and start new things."
While attending, Charles participated in the Residence Hall Association and the Success Mentor Program, where she helped new students navigate through their first years on campus. She also organized the first African Black Coalition conference held at UC Merced in 2012. She said she got the most out of the UCDC program, however, which she was the first student to attend twice.
Charles, now working in a public relations position at Instagram, can still be found sharing her enthusiasm for music through social media on both Instagram and Twitter. She continues to create her own music and is pursuing a pet project fusing rap and flute.
She attributes much of her success to being flexible, open, and hardworking — but if there is one thing she emphasizes above all else, it's treating everyone she encounters with respect.  
Said Charles, "I would not be where I am today had I not nurtured my relationships."

Director of News and Social Media
Office: (209) 228-4408
Mobile: (209) 681-1061