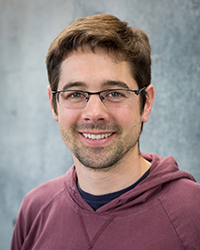 UC Merced graduate student David Vinson recently obtained an intensely competitive IBM Ph.D. Fellowship Award, which will provide $30,000 to support his research in computational social science through the 2015-16 academic year. He will also work with an IBM mentor over the course of the year.
Vinson was the first UC Merced student to be nominated for the award, and if nominated in subsequent years, he could receive up to three years of funding. 
"I am quite proud that the first student we nominated for this fellowship has won," said Vice Provost and Dean of Graduate Education Marjorie Zatz. 
Vinson said he's not sure yet what project he'll work on during his fellowship. He and his advisor, Professor Rick Dale, entered and won the Yelp Dataset Challenge last year for their manipulation and analyses of a dataset of over 200,000 Yelp business reviews. Since then, they have continued to work with the Yelp dataset — which now includes 1.6 million reviews — investigating how language use is influenced by experiences, interests and social interactions. 
They are currently examining social networks within the Yelp dataset, looking at friendship connections in thousands of networks to determine how social interactions relate to communication and cognitive processing.
"David is developing significant technical skills to wrestle with big datasets, and is programming both statistical models and simulations to test his ideas, which are inspired by hardcore theoretical cognitive science," Dale said. "His project is illustrative of our program's desire to push the interdisciplinary envelope and render new scientific insights through cutting-edge methods and theories."
Only a few IBM Ph.D. Fellowships are awarded each year. Students do not apply, but rather are nominated by faculty and IBM representatives worldwide. 
"This is a great opportunity to really get a feel for what one of the biggest industrial tech companies is doing right now," Vinson said, "and to be a part of a cutting-edge effort to bridge the gap between computer, cognitive and consumer sciences."

Director of News and Social Media
Office: (209) 228-4408
Mobile: (209) 681-1061