Albert Vasquez, with 33 years of experience in law enforcement and administration, will be the university's second police chief and first assistant vice chancellor for campus and public safety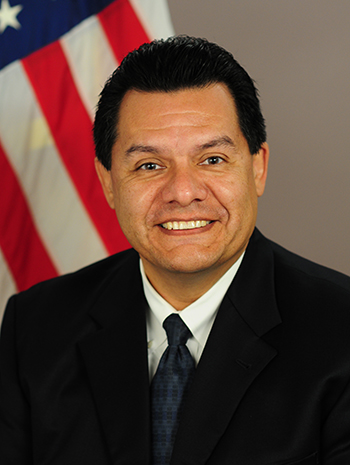 The University of California, Merced, announced today (July 7) the appointment of Albert Vasquez to the dual role of police chief and assistant vice chancellor for campus and public safety, effective Aug. 17.
As assistant vice chancellor, Vasquez will oversee UC Merced's growing safety programs, including environmental health and safety; risk services; fire and public safety; inspection and building services; parking enforcement; and worker's compensation. 
As chief of police — replacing founding Chief Rita Spaur, who retired in March after 10 years in the position — Vasquez will cede day-to-day operations to Lieutenant Chou Her, who has served as interim chief since Spaur's departure. Holding both positions will be nothing new for Vasquez, who has served as both police chief and dean of campus security and student health and safety at Santa Monica College since 2008.
"Combining these functions was not the original plan going into the search," Vice Chancellor for Business and Administrative Services Michael Reese said in a message to the campus. "But little did I know that such a unique candidate would present himself with the qualifications necessary to serve in this dual role."
Vasquez brings 33 years of experience in law enforcement and public safety to UC Merced, including time spent with the United Nations International Police Task Force and the Department of Justice's International Criminal Investigative Training Assistance Program. He also has several years of administrative experience in education, both at the community college and K-12 level.
At Santa Monica College, Vasquez oversees a department of 130 employees and student workers who serve a population of approximately 45,000 students, faculty and staff members at five sites in Santa Monica and Los Angeles. While there, he has developed the school's federally-recognized Campus-Community Emergency Response Team program and implemented National Incident Management System, Incident Command System and Standardized Emergency Management System practices and protocols on campus.  
That experience will be valuable as UC Merced moves into its next phase of development, Reese said. The 2020 Project aims to double the physical capacity of campus facilities by 2020 in order to accommodate record numbers of student applicants, increase regional and statewide access to a UC education and support the university's most critical academic and research priorities.
"I'm really excited to be joining UC Merced during this approaching period of growth," Vasquez said. "It is a new position to the institution, and I am thrilled about the possibilities for the continued development in all of the safety areas on campus."
Vasquez previously served as the founding police chief and administrator of risk management and transportation for the Hacienda La Puente Unified School District in the City of Industry. 
He holds a doctoral degree in education from the University of Southern California; master's degrees in criminal justice, from Chapman University, and in Homeland Security studies, from the Naval Postgraduate School in Monterey; and a bachelor's degree in criminal justice from California State University, Los Angeles. He has also served as an adjunct professor and faculty member at several Southern California colleges and universities.
"I am confident that Dr. Vasquez's incredible skill set and demonstrated ability to foster leadership, collaboration and problem solving across the campus will make him an invaluable member of UC Merced's senior leadership team," Reese said.