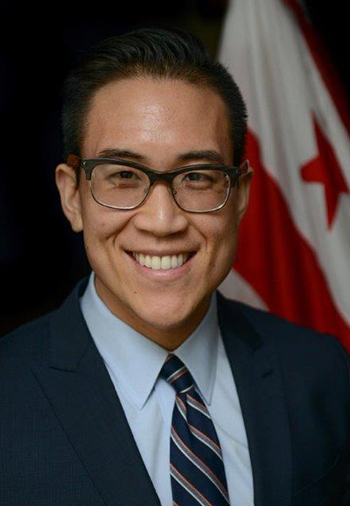 David Do sits in his office in Washington, D.C. — nearly 3,000 miles from UC Merced — reflecting on the path he's cut for himself. Do, who now serves as director of the city's Office of Asian and Pacific Islander Affairs under Mayor Muriel Bowser, has come a long way since being part of UC Merced's first graduating class in 2009.
Do is like many who have graduated from the young university. He was able to shape his experience at UC Merced, which he said has shaped his post-college life.
"It was an opportunity to be a trailblazer," Do said, "and an opportunity to write my own story."
As director of academic affairs for the Associated Students of UC Merced, Do was part of the student-led effort to attract first lady Michelle Obama to give the commencement speech to UC Merced's first graduating class. He said it was an experience he'll never forget.
"We really took it upon ourselves to make a lasting impact," Do said. "We were licking and stuffing envelopes. We sent thousands of letters to the community. It struck a chord, and she did it — it was one of the most beautiful speeches I've ever heard."
Do also participated in the University of California's UCDC program, an internship that sends UC students to D.C. for a semester to live and to work. That led to a job in the office of Sen. Barbara Boxer. The cross-country move took Do a long way from his hometown of San Jose, where his path to college was all but smooth. 
Do's family struggled early in his childhood, as his parents — refugees of the Vietnam War — worked fast food jobs during the day and took vocational classes at night. Do's primary language growing up was Vietnamese, and he was an English Language Learner in public school. He became the first in his family to graduate from college when he received his bachelor's degree in economics at UC Merced.
The move to D.C. was a major life-changer, Do said, noting the diversity of the city is like nothing he's seen. He came out as gay, and has since supported many LGBT causes in the Asian community — a culture, he says, that still has difficulty talking about such issues. Do received a Master of Community Planning degree from the University of Maryland and ran for the board of education.
"I quickly became involved," he said. "All of my support networks are here. It's really where I became an adult."
Do says his focus is to create change at the local level, where he feels results are more substantial. He recently helped put together the city's Asian-American and Pacific Islander Heritage Month, during which underserved Asian communities were introduced to activities like yoga and taekwondo. The D.C.-area publication Asian Fortune recently named him one of the 40 most influential Asian-Americans in Washington.
In just six years, Do has become hugely involved in helping shape life for Asian-Americans in D.C., both in his professional life and through personal philanthropy. 
"My parents wanted me to become a doctor or a pharmacist," Do said. "With public service — I really enjoy what I do. They recently came and saw my office and saw what I do, and they are extremely proud."