When you plug in an appliance, chances are you don't think of the plug as being particularly intelligent.
But WattTime, a startup nonprofit developed through the Center for Information Technology Research in the Interest of Society (CITRIS) Foundry at UC Berkeley, has developed one that is, and is testing it on electric carts at UC Merced during the spring semester.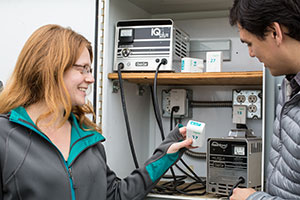 UC Merced's Facilities department has 10 electric carts used to run errands around campus, and Anna Schneider, co-founder of WattTime, believes her technology can save the campus money and reduce its carbon footprint — one of UC Merced's major sustainability goals.
"We can learn from each other," Schneider said. "We'll help you use less carbon without you even knowing anything has changed."
The smart plugs installed at the Facilities building near the back of campus gather data about what kind of energy is being used to charge the carts and determine the cheapest and least environmentally impactful time to charge. Every minute of the day, WattTime software follows what kind of energy is being used — solar, natural gas, coal, geothermal or hydroelectric.
"Different power sources are available on the power grid at different times of the day and night," Schneider said. "Once you have that data, you can figure out when to use the cleanest energy possible," she said.
Campus Energy Manager Varick Erickson said that while UC Merced has ambitious sustainability goals, the campus did not have the baseline electricity usage of the carts until now.
"Most people don't really have a handle on their carbon footprint," he said. "For example, electric cars can occasionally be worse for the environment than gas-powered cars, depending on the source of the electricity used to charge the cars."
WattTime plugs will gather data for a couple of months in this pilot program, and develop a charging strategy for Facilities to most efficiently charge its carts.
"I expect it will save us some money, and it's a good start," Erickson said.  "We're open to all kinds of applications for it across campus."
Schneider said WattTime technology is being developed for other applications, such as thermostats and refrigerators. The grant she and co-founder Gavin McCormick received is through the Echoing Green Foundation in New York, a global nonprofit that provides seed funding and technical assistance to emerging entrepreneurs with ideas for social change. Anyone with a good idea can apply for a fellowship or grant.
Likewise, CITRIS, which has a UC Merced branch, seeks to create information technology solutions for many of the world's most pressing social, environmental and healthcare problems.
CITRIS was created to shorten the pipeline between world-class laboratory research and the creation of startups, larger companies and whole industries. CITRIS facilitates partnerships and collaborations among more than 300 faculty members and thousands of students from numerous departments at UC Berkeley, Davis, Merced and Santa Cruz, with industrial researchers from more than 60 corporations.

Senior Writer and Public Information Representative
Office: (209) 228-4406
Mobile: (209) 201-6255