For the University of California, Merced, students in this year's nanoBIO internships and research program, working with something extremely small could have huge implications.
"I had no idea nanotechnology could have so many applications in biology," said John Harvey Paredes, a fourth-year student majoring in materials science. "This internship opened so many doors, so many possibilities."
Professor Sai Ghosh recommended he apply for it, so he gave it a shot. He was one of seven students accepted to the 2-year-old partnership between UC Merced and the University of Illinois at Urbana-Champaign (UIUC).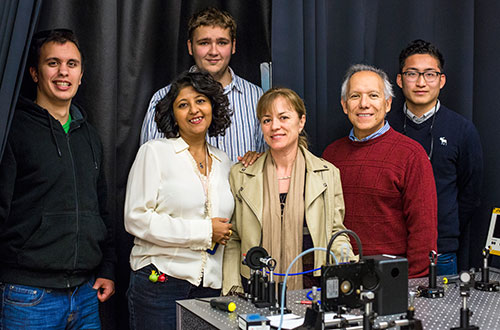 Now, he's certain he wants to go to grad school instead of going straight into an industry job after graduation.
"I kind of fell in love with it," Paredes said.
The undergraduate students, most of who start with no research experience at all, are partnered with UC Merced faculty members working on projects using nanotechnology in a wide range of applications. They attend a two-week workshop at UC Merced, where they are introduced to the projects and research in general.
Then they spend two weeks at UIUC, working with graduate students, postdoctoral scholars and professors from all over the country, learning about different projects and the online tools they can adapt and use for their own research as it continues forward after the summer internship.
This year's seven participants – Ana Arteaga, Kiran Chauhan, Kyle Chism, Dylan Dahlquist, Paredes, Joseph Silva and Seth Spitulski – were successful, agreed program coordinators Ghosh and Petia Gueorguieva, the UC Merced STEM Resource Center coordinator.
"For most of them, this really is their start in research, and the summer school they attended was designed at levels well above what they are used to," Ghosh said. "They met the challenge and really represented UC Merced well."
The students were required to take part in a poster contest at UIUC where UC Merced scholar Ana Arteaga won honorable mention. Paredes won the first prize for his talk at the Far West Section meeting of the American Physics Society in October, presenting work he started over summer with Ghosh and at UIUC and has since continued.
Third-year materials science student Joseph Silva got hands-on experience in five labs at UIUC, and the internship only fanned his passion for grad school.
"I've always been interested in medical research because I feel it has the greatest benefit to society, and it's very intriguing," Silva said. "But taking part in these projects and working with graduate students really helps you see your work from different perspectives. It can only help with my own research."
School of Natural Sciences Dean Juan Meza and Professor Mike Colvin started this partnership when they received $175,000 a year for five years from the National Science Foundation (NSF) to form a nano-bio "node" that offers all the partnering schools access to the nanoBIO facilities and online tools housed at UIUC.
The UC Merced undergraduates lived in the UIUC dorms with about 50 grad and undergrad students from many other universities, working and socializing with peers and internationally recognized researchers from all over the country. Silva and Paredes both connected with researchers at all levels there, and have stayed in touch since.
"We'd like to see more of our students take advantage of these kinds of programs," Gueorguieva said. "They get different experiences than in classrooms and gain excellent skills in understanding academic research and professional networking."
Applications for next year's program open in February. To qualify, you must:
Be enrolled as a full-time undergraduate student;
Have at least four semesters of college experience;
Have a 3.0 cumulative GPA or higher;
Have U.S. citizenship or permanent resident status.
"Given the youth of our campus, it's even more important for our students to have these kinds of opportunities," Ghosh said, "because there isn't a big pool of other people with this kind of experience for them to draw from here yet." 

Senior Writer and Public Information Representative
Office: (209) 228-4406
Mobile: (209) 201-6255