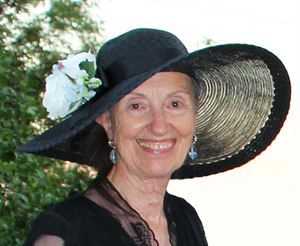 For Helen Dahman, college was always more marathon than sprint.
Now 73, Dahman was just out of high school when she took her first college classes. But she wasn't ready then and instead entered the workforce, married, raised a family and volunteered at her sons' schools.
Yet the idea of a university degree never disappeared. On May 18, Dahman concludes her personal academic marathon as the oldest student to graduate from UC Merced.
"It's a good finish — this completes the journey," said Dahman, who earned a bachelor's degree in literatures and cultures last December. "It's kind of like the candle on the cake."
Dahman, who lives in Madera, has several reasons to feel a connection to UC's 10th campus. She was born in Merced and the family sometimes spent time at Lake Yosemite, which borders the campus.
Her husband, a former judge and lawyer, is a graduate of UC Berkeley — the oldest UC campus. Dahman wanted the prestige of a UC degree and liked the symmetry of earning it at the UC's newest campus.
She began her studies at UC Merced in 2007, taking one or two classes each semester. Dahman loved the small-town vibe, refreshing students and professors who were accessible and generous with their time, opinions and advice.
Although Dahman was older than most other students, she never saw age as an issue.
"I felt that I blended in beautifully," she said. "I was just accepted as another classmate."
Many don't know the back story and delicate balancing act of her life. Surrounded by family and friends with college degrees, Dahman felt at a disadvantage.
She knew friends who headed back for degrees later in life. She thought: "Why not me?"
After her two sons were grown, Dahman decided it was time. She had just begun classes at the State Center Community College District's Madera Center when her husband, Victor, suffered a stroke in 1998.
Dahman might have dropped out. But her college instructor — a dear family friend — helped partly by delivering class lectures to an attentive audience of one at the Dahman home.
As her husband improved, Dahman went back to the classroom and eventually earned an associate's degree in Madera. At the same time, she carefully watched the progress of construction at UC's newest campus in Merced.
Once the UC Board of Regents selected Merced, Dahman knew where she would continue her studies. "I was going to do that or bust," she said.
Dahman, a hard-working and dedicated student, limited time away from home to no more than five hours because of her husband's health. She was late to class just once, and missed class another time because of the flu.
She took off one semester to travel to Italy, visit family and take part in a race, "Camminata al Doss de Sant'Antoni" in Mellarolo, a village of Valgerola in Valtellina. Dahman's maiden name is Rabbiosi, and both parents are of Italian ancestry.
These days, Dahman speaks frequently with cousins in Italy as she works on compilations of family history. She said UC Merced's writing classes helped provide a foundation for that work, which is among the passions and hobbies of her post-college life.
She'll return to campus for commencement and plans to bring her husband, who was supportive and helpful with her studies. Dahman has no plans to pursue another college degree — though some have suggested she should.
"No, I'm done," Dahman said. "I'm satisfied."
Senior Public Information Representative
Office: (209) 228-4203
Mobile: (209) 628-8263