Former U.S. Undersecretary for the Department of Energy Kristina Johnson and Superior Court Judge Paul Lo will address the Class of 2014
The University of California, Merced, has selected CEO of Enduring Hydro LLC and former U.S. Undersecretary for Energy Kristina Johnson and Merced County Superior Court Judge Paul C. Lo to deliver keynote addresses at its ninth commencement, May 17 and 18.
With more than 1,400 students eligible to graduate, UC Merced marks another milestone with its largest graduating class in history, surpassing the 898-member graduating class a year ago.
The campus will again hold two school-based ceremonies to accommodate students and their families.
Johnson will speak to candidates in the schools of Natural Sciences and Engineering on May 17, and Lo will address candidates from the School of Social Sciences, Humanities and Arts on May 18. Both events begin at 9 a.m. in the South Bowl on campus.
"Both speakers are leaders in their fields and will inspire our graduates as they head off to make their mark on the world," Chancellor Dorothy Leland said. "Many of our students have endured challenges and hardships, as have both speakers.
From Academic to Entrepreneur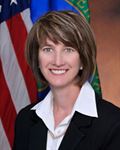 "It's no secret that women are significantly underrepresented in engineering," Leland said. "Kristina Johnson is a wonderful role model for our students because she epitomizes the opportunities available to those who dedicate themselves to excellence in their chosen fields."
Johnson, the second woman to speak to UC Merced commencement candidates, is CEO of Enduring Hydro LLC. She served as undersecretary at the Department of Energy in Washington, D.C., from May 2009 until October 2010, and during her tenure introduced innovative programs to enhance renewable energy pathways. Before her appointment, Johnson was provost and senior vice president for Academic Affairs at the Johns Hopkins University, and dean of the Pratt School of Engineering at Duke University. 
Johnson co-founded several companies, including SouthEast Techinventures and ColorLink Inc., which was sold to RealD, and is responsible for 3D effects in movies such as "Avatar," "Monster House," and many others.  
Johnson's academic awards include the Dennis Gabor Prize for creativity and innovation in modern optics and the John Fritz Medal, widely considered the highest award in the engineering profession. Previous recipients of the Fritz Medal include Alexander Graham Bell, Thomas Edison and Orville Wright.
Johnson was inducted into the Women in Technology International Hall of Fame, and received the Society of Women Engineers Lifetime Achievement Award, the ARCS Foundation Eagle Award for science and education, and the Women of Vision Award for Leadership by the Anita Borg Institute for Women and Technology.
She received her bachelor's, master's and doctoral degrees in electrical engineering from Stanford University. After a NATO post-doctoral fellowship at Trinity College in Dublin, Ireland, she joined the University of Colorado-Boulder's faculty in 1985.
Johnson serves on the board of directors of Boston Scientific Corporation, American
Wildlife Foundation, Rocky Mountain Institute, AES Corporation and Cisco Systems.
From Refugee to the Bench

"Paul spent part of his childhood in a refugee camp in Thailand, and then his parents gave up everything so he and his siblings could come to California and have a better life," Leland said. "Now, he is the first Hmong-American judge in U.S. history and I am sure he will share his remarkable experiences with our graduates."
Lo, originally from Laos, was appointed by Gov. Jerry Brown to a judgeship in the Merced County Superior Court in 2013.
He received a bachelor's degree from UC Davis and a juris doctorate from UCLA School of Law. He was admitted to the California State Bar in 1994. He is a former partner and managing partner of the Law Firm of Allen, Polgar, Proietti and Fagalde. Prior to taking his spot on the bench, Lo owned the Law Offices of Paul C. Lo in Merced and practiced in the areas of personal injury, employment law, business transaction and litigation, and general civil litigation.
He is a Rotarian, a former elected member of the Merced City School District Board of Trustees, a member of the UC Merced Foundation Board of Trustees, a member of the Merced Mercy Hospital Community Board of Trustees, the founder and former president of the Southeast Asian-American Professionals Association (SEA-APA), a former board member of the Greater Merced Chamber of Commerce, and the former president of the Hmong National Development Inc.
For more information on commencement events, visit commencement.ucmerced.edu.
Senior Public Information Representative
Office: (209) 228-4203
Mobile: (209) 628-8263