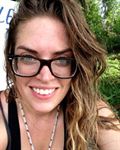 Graduate school is a constant state of discovery, something UC Merced alumna Jackie Shay credits for her current passion: fungus.
Shay just returned home from a month in the humid climes of Madagascar in search of species in the Marasmius genus — a tiny, relatively inconspicuous-looking mushroom that acts as a natural recycler of fallen leaves and branches.  
"I went to several forests, got on my hands and knees, and collected these little guys," said Shay, who's currently working on her master's in mycology — the study of fungi — at San Francisco State University.
Shay's foray into fungus came in 2011 after reading an article on marine fungi, something she — like many — didn't know even existed. Intrigued, Shay contacted Anthony Amend, a professor of botany at the University of Hawaii at Manoa, who was doing some major work in the field. It turned out to be a pivotal moment in Shay's life, and she soon found herself researching programs around the West Coast. And it might not have happened if it wasn't for her time at UC Merced, which she says creates an environment that encourages students to be bold in approaching professors about their research.
Shay, who graduated from UC Merced in 2009 with a bachelor's degree in biological sciences, said the university's class structure also played an important role in her life.
"One thing I loved about UC Merced was the integration of different fields," she said. "Some classes were co-taught by different professors. I love that idea. That approach is not as widespread as it should be."
That philosophy has manifested itself in her own field of study, which aside from mycology, includes ecology and systematics. Shay is still in the early stages of her current research, having just brought her specimen back to the Desjardin Lab at SFSU, where she'll spend the next few weeks identifying the different species of Marasmius. One thing Shay has discovered in her journey is that the more she learns about fungi, the less she actually knows about it.
"I'm constantly learning — there's so much to know, and so much unknown," she said. "We only know about 10 percent of what fungus has to offer. It's nice that there's so much room to work with."
Shay plans to finish her master's thesis in the spring of next year. From there, her future is wide open.
While Shay loves working in a lab, she'll likely continue her education and pursue a Ph.D. Shay admits that this is the first time in her life where she doesn't have a concrete plan. But she welcomes the adventure. A lifelong traveler, she's always had an adventurous spirit. Shay went to Africa at age 13 with her family, and has since served in the Peace Corps, taking her to Morocco with jaunts to England, India and Ireland.
That intrepid spirit is also what led her to UC Merced when the campus opened in 2005.
"There was something so different about it," Shay said, adding that helping shape the university's identity was important. "UC Merced ended up being my first choice. I loved every minute of it; it was a really big part of my life."
Senior Public Information Representative
Office: (209) 228-4203
Mobile: (209) 628-8263