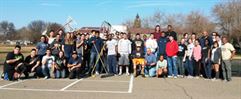 A day off meant a day of service for some UC Merced students and staff and faculty members who volunteered to help spruce up Luther Burbank Elementary School in Merced as part of the 2014 Martin Luther King Jr. National Day of Service.
Associate Director of the Office of Student Life Vernette Doty coordinated the annual volunteer effort.
"I talked to Merced City School District and they identified Burbank Elementary as having several different projects," Doty said. "Then we sent out a call to students, staff and faculty members, and close to 50 said they'd be there to help."
Doty was pleasantly surprised when more than 80 UC Merced affiliated volunteers showed up to paint, rake, trim and more.
Some of the groups represented included the men's basketball and volleyball teams, Bobcat Girls dance team, Black Student Union, fraternities and sororities, staff and faculty.
Earlecia Martin, a sociology major from Los Angeles, was all smiles as she gathered piles of leaves in the school's playground.
"It feels really good to help out the community and to represent my club, the Black Student Union," she said.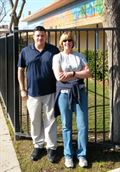 "Burbank is a good centralized location and it needed some detail work," said Juan Mendoza, supervisor of operations and grounds for Merced City Schools, who offered to spend his holiday opening up the school for the volunteers. "I think it is good for the students to get out here and interact with the community and also build a partnership between Merced City Schools and UC Merced."
While the service project benefitted the school, it also reinforced the university's commitment to public service.
"Our students feel compelled to give back to their community more than I've seen at other places," Doty said. "They see it as a great opportunity and they realize they have been given a chance and they want to turn around and help others.  They also seem to enjoy working together on service projects."
"It was a really good turnout," Mendoza said. "They did a lot of work in a short time."
The MLK National Day of Service is the country's largest day of civic engagement, but UC Merced also holds various other days and service projects going on throughout the year.
"Thank you to all who made it 'a day on, not a day off!'" Doty said. "I am so appreciative of all who came out. It is way more than we anticipated." 
Senior Public Information Representative
Office: (209) 228-4203
Mobile: (209) 628-8263