Between record enrollment and research expenditures, a massive economic impact on the San Joaquin Valley, new buildings and a visit from the new UC president, the University of California, Merced, has had a big year.
Newly appointed University of California President Janet Napolitano chose UC Merced for her first campus visit – in her first week on the job – saying the youngest UC campus is important to the UC system, but also to the Central Valley and the state.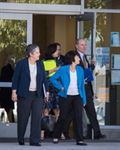 She toured the campus and sat in on classes, met with students, staff and faculty members, experienced laboratories affiliated with all three academic schools and learned about UC Merced's sustainability.
Napolitano didn't exaggerate when she spoke of UC Merced's role in serving the state and nation. By the end of this year, the campus will have pumped $1 billion into the region's economy since operations began. Between wages and benefits, construction contracts and goods and services purchased, the campus has significantly contributed to the area's economic growth.
Statewide, UC Merced's total economic contribution now exceeds $1.7 billion.
Part of that money comes from what was, this year, record research expenditures of $17.3 million. UC Merced's stellar researchers spent 9 percent more this year than last year, and have spent $103.5 million in the Valley since 2003. That money primarily comes from grants and private donations, and is used to purchase equipment, supplies and services and as aid to graduate students who conduct much of the research under faculty direction.
Some of the groundbreaking work being done at UC Merced includes:
Professor Rudy Ortiz's work on diabetes – a huge problem in the Central Valley and beyond. Amylin Pharmaceuticals LLC, a subsidiary of Bristol-Myers Squibb Co., granted him $192,000 for the next two years to work on developing new applications for medicines used to treat the effects of insulin resistance, such as preventing kidney damage in diabetics.
A National Science Foundation-funded program that will encourage gifted applied math students to put their skills to use in big-data analysis, an up-and-coming high-demand field.
The continued water-related research of Professors Roger Bales, Martha Conklin and Steve Hart and their graduate students and postdoctoral researchers working in the Sierra Nevada. A five year, $5 million NSF grant will enable researchers in the Southern Sierra Critical Zone Observatory to continue addressing challenges to California's water security and its link to the health of Sierra Nevada ecosystems.
A $400,000, two-year seed grant through the University of California that will help UC Merced hone its focus on the Valley's economy by establishing the campus's branch of the Blum Center for Developing Economies. UC Merced's center is themed "Global California: The World at Home."
UC Merced researchers always aim high, but they also now have their eyes on the skies. The Mechatronics, Embedded Systems and Automation (MESA) Lab really took off this year with its research into unmanned aerial vehicles, or drones, to be used for such tasks as monitoring air quality in wildfires before humans are put in harm's way; monitoring thousands of miles of natural gas pipelines for leaks; and monitoring crop growth, soil health and moisture The data-gathering drones have endless civilian applications, including, as Amazon figured out this year, delivering people's online orders to their homes or offices.
The research UC Merced is rapidly becoming known for is one reason this year also saw a huge jump in enrollment. This year's 6,195 students — a 7 percent increase over last year — came from a record application pool of more than 18,000.
Like many campuses, UC Merced faces a space crunch. To help accommodate growth, the campus added new housing – the new five-story residence hall, called Half Dome, which allows 2,100 students to live on campus, an increase of 30 percent.

The campus had so many graduating students this spring – 900 – it had to schedule two commencement ceremonies.
And the UC Board of Regents approved the 2020 Plan, a campus growth design that calls for higher density buildings on the current campus footprint, to optimize space so the campus can accommodate 10,000 students by the year 2020.
Every single campus building will continue to be constructed to meet the U.S. Green Building Council's exacting Leadership in Energy and Environmental Design criteria so as to earn LEED certification.
This year, the campus received its 11th such certification with platinum LEED status conferred on the new Social Sciences and Management Building. Half Dome student housing, the under-construction Student Services and Science and Engineering 2 buildings and the second Classroom and Academic Office Building, which is in design, are all also expected to achieve LEED platinum status.

Senior Writer and Public Information Representative
Office: (209) 228-4406
Mobile: (209) 201-6255