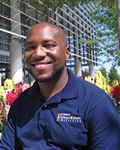 Armanti Hardesty is ready to join the next generation of teachers.
"We're all going into a more technological age," said Hardesty, an alumnus from Long Beach. "It's great to have new teachers learning the best ways to help students."
Hardesty left UC Merced in May with a degree in sociology and a minor in natural sciences education, and is planning to enroll at Fresno Pacific University to pursue a multi-subject teaching credential. He's one of nine other students headed to that university. Their path to teaching was guided by the campus's CalTeach/UC Science and Math Initiative.
Now in its sixth year, the initiative's goal is to help combat California's shortage of well-trained science and mathematics teachers in grades K–12. UC Merced's program recently expanded its reach through a partnership with Fresno Pacific University that allows graduates to transfer with credits, saving them money and time.
Additionally, the campus's program and UC Berkeley's program were recently awarded a joint five-year, $1.5 million grant from the UC Office of the President. The grant allows UC Merced students in the CalTeach/UC Science and Math Initiative to concurrently earn bachelor's degrees and teaching credentials. UC Merced students will need to spend one semester studying pedagogy courses at UC Berkeley. The plan is to begin offering this option in Fall 2014.
"Given the need for well-trained science and math teachers, students will essentially be leaving with jobs," said Mayya Tokman, a UC Merced mathematics professor and SMI faculty director. "The focus is to bring the teachers here to the San Joaquin Valley."
Hardesty spent his last semester helping teach a class at Atwater High School and is open to working in the San Joaquin Valley once he earns his credential.
Since its inception, 563 students have been part of the campus's CalTeach/UC Science and Math Initiative. Fifteen students have earned or are earning teaching credentials. A dozen have earned substitute teaching credentials.
Hardesty said the campus has given him a multitude of opportunities, including attending conferences and serving as president for the Black Student Union. And it's helping him fulfill his lifelong dream to teach.
"I want to be the teacher a student always remembers," he said.

Director of News and Social Media
Office: (209) 228-4408
Mobile: (209) 681-1061