UC Merced's growing academic depth and research emphasis are attracting top students from across the state and around the world
The University of California, Merced, kicks off its 2013-14 academic year today with the largest and most diverse class of incoming freshmen, the largest contingent of graduate students, the largest total enrollment and the largest body of faculty members in its history, the university said today.
For UC Merced Chancellor Dorothy Leland, these growth milestones, achieved despite years of resource constraints and financial uncertainty at the state level, represent important developments for a young campus on a long-term mission – one that goes well beyond the traditional classroom and the geography of the San Joaquin Valley.
"We begin our ninth academic year today with the optimism of a growing campus that is more capable than ever of making a lasting contribution to the region, the state and society as a whole," Leland said. "These milestones reflect strong student and faculty interest in a UC-caliber experience coupled with the unique opportunities for personal growth and engagement only a smaller campus can offer."
UC Merced's growing academic depth, welcoming atmosphere and strong emphasis on research at all levels are helping to attract top students from all over the state and boost the university's standing as a catalyst for change in the region and beyond, she said.         
Research that Matters
"As a research university in the great UC tradition, we are deeply engaged in addressing the most pressing problems of our region and state and applying that knowledge to the betterment of society as a whole," Leland said. "This focus on discovery and problem-solving through research adds a vital dimension to the classroom experience and prepares our students for constructive contributions in whatever field they choose."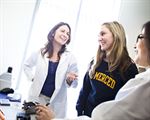 For example, students enrolled in classes on life and environmental sciences do much of their studying in the Sierra Nevada, where plant health is monitored and environmental conditions are tracked to determine the effects of climate change.
Similarly, students enrolled in several engineering classes work with local organizations to help solve actual day-to-day problems, part of a service-learning program that makes textbook instruction more meaningful.
The university's expanding research mission is also attracting significantly larger numbers of graduate students to the newest UC campus. This fall, 385 students, 17 percent more than last year, are slated to enroll in a wide variety of advanced-degree programs. Top-quality graduate programs attract significant research funding from government and private sources and have the potential to lead to dramatic discoveries or inventions for which UC researchers are internationally renowned.
Lifting the Region Helps the State
Basing this scholarly activity in the heart of one of the state's poorest but fastest-growing regions makes even better sense today than it did when the university was initially sited here in the late 1990s, Leland said.
"California is struggling to emerge from one of the deepest recessions since the Great Depression," she said. "It cannot regain its standing as an economic and cultural force of global significance if large parts of its population are left behind. Cutting-edge research in a region with enormous potential will improve the quality of life, stimulate investment, spawn new industries and help lift the Valley to a level of prosperity enjoyed by other parts of the state.
"This is a vital part of our mission and a huge source of motivation for faculty, students and administrative teams who come here to be part of something new, different and critically important to the future of our state," Leland said.
To date, university faculty members have attracted more than $100 million in research grants to support this mission. An additional $30 million in other awards has been awarded for nonresearch activities.
Record Enrollment
This fall, freshman enrollment of 1,600 students will exceed last year's then-record class size by about 100 students. Students hail primarily from the San Francisco Bay Area (30 percent), the greater Los Angeles area (30 percent) and the San Joaquin Valley (40 percent) and comprise the most diverse incoming class in the university's history.
UC Merced leads the UC system in the percentage of students from underrepresented ethnic groups, low-income families and families whose parents did not attend college. 
Total enrollment is expected to approach 6,200 students this fall, up from 5,760 a year ago. (An exact count will be available in late September.) Students will be able to enjoy or compete in two new intercollegiate sports (men's volleyball and soccer) in addition to six other sports previously established.
Borna Zandipour, a freshman biological sciences major from Walnut Creek, said, "I first visited UC Merced when my brother moved on campus four years ago. It made a great first impression; I was very impressed by how nice and sleek the campus was. From that point on, UC Merced was always on my mind. It seemed like a viable option in the future for college, considering it was new and close to home. But, what really sold me was hearing about how much my brother enjoyed his time here. It was comforting and reassuring knowing he thrived at UC Merced, and I hope I can do the same."
Ladder-rank faculty employment now totals more than 190 with the addition this fall of 20 new faculty members. An additional 170 lecturers assist with classroom instruction. Total employment, including faculty and administrative personnel, is now approximately 1,300.
Managing Growth
With the completion this summer of the Half Dome housing complex, the university's fourth major residential unit, approximately 2,000 students will be able to live on campus. Other new buildings under construction or in the advanced planning phase include:
Student Services Building, opening this fall (first phase) and Spring 2014 (second phase)
Little Lake Amphitheatre, scheduled for completion in winter 2013
Sciences and Engineering Building 2, scheduled to open Fall 2014
Classroom and Office Building 2, scheduled to open Spring 2016.
As previously announced, the university also plans to expand off-campus facilities and accelerate future on-campus construction to accommodate a projected enrollment of 10,000 students by 2020.
"Sustaining and managing growth in a resource-constrained environment will be our biggest challenge in the years ahead," Leland said. "We are deeply grateful for the community's continuing support and patience as we work to accommodate our growth, attract investment and add long-term value to the region."