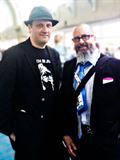 In John Bultena's writing classes, students often explore new literary classics. Like "Batwoman Volume 1: Hydrology."
Bultena, a lecturer in UC Merced's Merritt Writing Program and recent panelist at San Diego Comic Con, uses comic books and graphic novels to reach students and teach new skills. He sees those books as another medium to communicate ideas about literacy, multiculturalism, the human experience and more.
Because this form of literature weaves together images and text, Bultena said students must develop different skills to navigate, understand and interpret the content.
"The pictures and words reflect each other and create meaning together," he said. "This is a way for students to engage in literacy that coordinates the two."
The idea of multiple literacies and interdisciplinary understanding is critical to the Merritt Writing Program, he said. The program trains students to convey information, express themselves and interact with multiple audiences by using advanced skills in written and other forms of communication.
Bultena, who grew up in Merced, developed a love of comic books as a boy. Today, his office is decorated with graphics, posters, images and figures that reflect an ongoing passion.
Last month, Bultena traveled to San Diego to moderate a panel featuring J.H. Williams III, a prominent illustrator and writer who lives in Central California. The two are friends, and last year Williams was a guest in Bultena's class, allowing students to pose questions for research essays.
At Comic Con, Bultena set a blistering pace in the 50-minute "spotlight" session. He covered topics such as Williams' artistic influences, writing challenges, clothing and album designs, and illustrations in upcoming projects such as "Sandman: Overture."

Williams also is the illustrator and co-author of "Batwoman Volume 1: Hydrology." In part, the story deals with the Mexican-American community of Gotham City and themes involving military and LGBT (lesbian, gay, bisexual and transgender) cultures. (Batwoman is a lesbian and comes from a military background.)
The story's primary villain is La Llorona, or the weeping woman — a character prevalent in Mexican folklore. Legend has it that she drowned her children in an effort to win back the husband who only paid attention to them. In death, the ghostly apparition searches for her offspring and snatches up other children.
The "Batwoman" storyline echoes a legend that already was familiar to many students in Bultena's class last year.
"The students were taken aback by this," he said. "This was something they grew up with and it actually made it scarier for them."
Through "Batwoman," Bultena discusses how Williams — who isn't gay, a woman or Hispanic — handles multicultural themes that are so different from his background. "Batwoman" has won multiple GLAAD (Gay & Lesbian Alliance Against Defamation) awards, and Bultena said the book demonstrates how a writer can present other cultures with respect, care and understanding.
Bultena also plans to use "Pride of Baghdad," a stand-alone graphic novel, in class this year. The story focuses on lions who escape from the Baghdad Zoo following the 2003 bombing, and their perspectives on liberation and the Iraq war.
The book should provide a springboard into research projects. For example, what happened to animals in the Berlin or London zoos during wartime?
Last fall was the start of Bultena's first year at UC Merced. He also has taught English at Merced College since 2006. Bultena, who holds a master's degree in philosophy and literature from California State University, Stanislaus, and a master's degree in library and information sciences from UCLA, said he was recruited to UC Merced partly because of his research-oriented background.
"They wanted me to bestow upon the students better ways to research and understand information," he said. Bultena also tells students about his own struggles in college.
"My first semester at Merced College, I flunked English 1A," he said. Back then, Bultena just didn't care — and it translated into failure.
"I tell them that if you care, and you try, and you're up for the challenge, it makes a huge difference," he said. 
Senior Public Information Representative
Office: (209) 228-4203
Mobile: (209) 628-8263