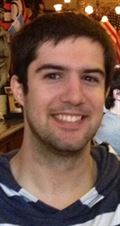 It has been four years since Mike Oliveira earned his bachelor's degree in bioengineering at UC Merced, but the campus still feels like home to him.
Now pursuing a Ph.D. at UC Riverside, Oliveira watched last year as his younger brother Paul received a bachelor's in mechanical engineering at his alma mater. 
Despite the 300 miles between the campuses, Oliveira stays connected to the Bobcat grapevine via an inside source.
"My dad, Louie Oliveira, keeps me plenty informed on campus happenings," Oliveira said.
The elder Oliveira is a superintendent for UC Merced's facilities management department.
About a third of UC Merced undergraduates come from Merced and neighboring San Joaquin Valley counties. Having family in the area means that Mike Oliveira's ties to the area will remain strong.
During his undergrad days, his local connections helped him play a leading role in building the campus culture, Oliveira said. With friend Ben Goodhue, he founded the UC Merced Club Baseball Team — one of the first campus sports teams to bring home a win for the university.  He also helped establish a campus chapter of the Biomedical Engineering Society.
Today, he stays connected as a board member of the university's alumni association. UC Merced's emphasis on mentoring gave Oliveira a boost that motivates him to give back.
He recalls help from Professor Kara McCloskey and academic advisor Elizabeth Boretz as keys to his success. 
Applying for and receiving a University of California Leadership Excellence Through Advanced Degrees (UC LEADS) fellowship with Boretz's support led to research opportunities that were "hands-down the reason" he's now pursuing his doctorate at UC Riverside, Oliveira said.
At UC Riverside, Oliveira remains a pioneer. He's helping found a chapter of the Society for the Advancement of Chicanos and Native Americans in Science, or SACNAS.
Oliveira's doctorate work involves using laser light to image biological tissue. Called optical coherence tomography, or OCT, the method can assemble pictures of the brain and other tissue with greater resolution than ever before.
With its promise of advances in understanding neurological and other disorders of the human body, the technique is being greeted with excitement among medical researchers.
"OCT and its variants have the potential to produce the next generation of breakthroughs in our understanding of the brain," Oliveira said.
Projections suggest that medical engineering fields will continue to grow over the next several decades — creating new job and research opportunities around the globe.
With its focus on emerging technologies, UC Merced will continue to need professors with advanced degrees in fields like bioengineering and nanotechnology.
As he looks to the future, Oliveira sees himself staying involved with UC Merced, perhaps even more intimately.
"Who knows?" he said. "Maybe someday I'll get the opportunity to shape the campus even more as a faculty member."