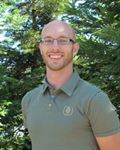 The UC Merced Yosemite Leadership Program's first full-time leader plans to build on the program's momentum and expand its visibility.
Jacob Croasdale was recently selected to oversee the 3-year-old program. A $65,000 grant from Mitsubishi Corporation Foundation for the Americas is funding the position through June of 2013.
"This is a critical moment for the program," said Charles Nies, UC Merced's associate vice chancellor for Student Affairs. "The Mitsubishi grant has allowed us to hire a dedicated person to shepherd the program, to help it take on more students and expand its profile."
The Yosemite Leadership Program (YLP) is a unique partnership between UC Merced and Yosemite National Park. Each year, 22 undergraduates join the program and learn about parks, environmental issues, themselves — and how to pass their enthusiasm on to others.
Croasdale graduated from UC Merced with a degree in biological sciences. He was both a founder and a participant in YLP, spending two years in the program.
"We started out super-grassroots, excitedly with a very primitive structure and curriculum," Croasdale said. "Now, over the past year, we've seen an incredible maturation of the program."
Croasdale wants to build that momentum and expand YLP's influence in local schools and communities.
"With this gift, UC Merced will provide guidance and professional support for its YLP students," Croasdale said. "This program is going to charge forward, thanks to the confidence and generous support given by Mitsubishi."
A key part of YLP is introducing urban and low-income youth, many of them immigrants, to national parks and the outdoors.
Participants in the two-year course educate other UC Merced students and area junior high and high school students about parks and the outdoors. The university students also intern for 12 weeks in Yosemite National Park and produce a reflective video project to share their powerful journey. Using experiences and skills gained, participants are empowered to make a lasting, positive change through their individual community-impact capstone projects.
Through increased exposure, program founders see YLP maturing into a self-sufficient entity. That will help cement the special relationship between the university and Yosemite National Park.
"Part of Jacob's job will be to document the program's success rate," Nies said. "Using that, we can go out and raise more funds and make YLP sustainable for the long term."
Other YLP donors have included Toyota USA Foundation, The Yosemite Conservancy, The Doherty Family Fund and the National Park Service. Program participants spend many hours together – including volunteer work and outings in Yosemite and other national parks. Participants form strong and enduring ties to the group and each other.
Jesus Delores, an alumnus from the program, is working as a seasonal interpretive ranger in Yosemite this summer. The program has changed his outlook, sending him in directions he never anticipated, he said.
"I was born in Mexico," he said. "I moved to California in 2001. I'm also a mechanical engineering major – people like me don't always do things like this."
Spreading YLP's core values has become an important part of Delores's life, he said.
"To me, YLP is a family that connects people," he said. "We reach out to people that don't know about national parks. YLP creates change by helping people experience the outdoors – people who might not have done these things before."

Senior Writer and Public Information Representative
Office: (209) 228-4406
Mobile: (209) 201-6255