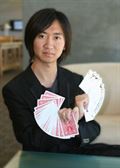 When a deadly earthquake shook the Sichuan province of his native China in May 2008, John Li watched from Los Angeles and immediately made a connection. He knew his passion for performing magic could offer relief and hope to suffering people, especially orphaned children.  
It took a few years, but Li, now a junior at UC Merced, has combined his talent for magic, his academic achievements and his personal drive. Li won a $10,000 grant to help make his dream — establishing a nonprofit named Magic4Hope — a reality.
Li will travel to China this summer as a Strauss Foundation Public Service Scholar to perform for orphaned children and document his efforts on film. He hopes to boost the children's spirits, and with the documentary he aims to bring greater awareness to their continued challenges.
He will also reach out on behalf of the City of Merced.
"I'm cooperating with the City Council to raise some funds for gifts to the orphans," Li said.
"I have always sought to make the impossible possible, which explains my love for physics," said Li, who started performing magic in high school. "With physics, most of the impossible dreams of mankind have already become reality. For example, we can fly with airplanes and talk to each other from a long distance away. I plan on making more impossible dreams come true."
Li studies math and physics at UC Merced, where he has found a constructive environment to support his goal of becoming a theoretical physicist.
"There's no destructive competition here," Li said. "Students help each other, and everyone becomes a winner.
The small student-to-faculty ratio makes every lecture like a research discussion, he said. Professors encourage students to think freely and ask questions.
Li said he is a strong, independent learner, a trait he learned while living away from his parents for much of his life. But he has appreciated help from UC Merced faculty and staff, especially Elizabeth Boretz of the Calvin E. Bright Success Center. Boretz helped Li prepare his proposal to the Strauss Foundation for the fellowship that will support his China trip.
The list of Li's accomplishments extends far beyond the Strauss fellowship. He served as the president of the Society of Physics Students in 2011-12. Li also won the Merritt Undergraduate Research Award, landed a summer research opportunity at California Institute of Technology, was selected as a UC Merced Leadership Award 2012 finalist, earned a Ronald E. McNair scholarship and won the Office of Student Life talent show.
While he was at CalTech, Li found many fellow student researchers had not yet heard of UC Merced.
"This makes me realize that being remarkable alone is not enough," Li said. "I need to increase the reputation of my home university. My motto is, 'Today my school is proud of me, tomorrow I'll be proud of my school.'" 
Senior Public Information Representative
Office: (209) 228-4203
Mobile: (209) 628-8263