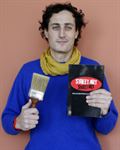 Graduate student Marco Valesi is turning a scholarly lens on an emerging form of expression.
He searches cities for art that appears without the approval of authorities. Few scholars across the globe document and interpret this kind of unsanctioned work, termed "urban art."
UC Merced's World Cultures graduate group lets Valesi focus his study in a way that might be difficult at more traditional schools.
"I write about hybrid culture, post-colonial society and trans-modern cultures," Valesi said. "All of these topics are very UC Merced — they bring together diverse subjects and different professors and disciplines."
UC Merced's School of Social Sciences, Humanities and Arts places a wide range of faculty under a single umbrella. For Valesi and his dissertation committee, this is a plus.
"The World Cultures program is as unique as it sounds," said literature Professor Ignacio López-Calvo, Valesi's dissertation committee chair. "Marco's research is completely interdisciplinary. It's good that he's in a program where he can draw on experts from different fields."
Valesi's path to UC Merced was also diverse. A native of Parma, Italy, he worked in Spain and Mexico City before pursuing his Ph.D. on campus.
He met his wife in Barcelona, where he also earned a master's degree in cultural studies. Alicia Ramos-Jordan, Valesi's wife, applied to UC Merced's graduate program in literature while the couple lived and worked in Mexico City.
Valesi followed suit, and the couple moved to Merced in 2008. After the pair moved, two children followed.
"It's not easy for two graduate students to raise a family," Valesi said. But he said that's an area where UC Merced offers support. The campus provides day care on campus — and helped the couple find financial aid to pay for it.
"That's pretty important, because it frees us up to work while keeping us close enough to spend time together as a family," Valesi said.
Valesi is now on course to earn his degree by May 2013. His dissertation is combining research and photography that focuses on urban art in Brazil, Italy and San Francisco's Mission District.
"Street art critiques … the modern city," Valesi wrote in the introduction to his dissertation, in which he argues that urban art challenges "the dominant cultural presences" of marketing, advertising and museums.
Urban art's profile has risen in recent years. Examples include the work of the street artist Shepard Fairey, and the U.K.-based artist known as Banksy. Urban artists work independently, without official support or authorization. Valesi seeks to place their work in context and to identify it as a global movement.
As he completes his graduate studies, Valesi's home and support network is at UC Merced. The campus is an intimate community that is satisfying to both Valesi and to Lopez-Calvo. 
"I go to Marco's children's birthday parties," López-Calvo said. "That's the kind of relationship that's unique to UC Merced. Here, you can have the kind of direct contact with students that you wouldn't get at other UCs or big universities."