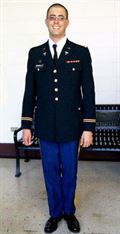 As a chemistry teacher at Golden Valley High School in 2004, Scott Seronello frequently told his students to keep working at their education and never give up their dreams. Then his students asked why he hadn't done that himself.
So he applied to UC Merced to pursue his dream of earning a Ph.D., which he did in 2010. From there, Seronello's path took an unexpected turn — toward military research in the U.S. Army.
Working with Professor Jinah Choi at UC Merced, Seronello studied the hepatitis C virus and its interactions with ethanol. Results from their work have been published in the journals PLOS One, the Journal of Biological Chemistry, and Free Radical Biology and Medicine.
As his graduate program wound down, Seronello considered his options. Many Ph.D. recipients accept postdoctoral positions until they can land tenure-track jobs — but Seronello and his wife, Christina, had a toddler son and a daughter on the way, and the pay and benefits looked insufficient.
After a presentation on military careers at an academic meeting, he discovered persuasive reasons to pursue a research career in the military: opportunities for travel, collaboration and advancement; desirable, specialized laboratory environments; attractive pay and benefits; and a supportive environment for the work-family balance he wanted.
"I knew I'd made the right choice when my assignment officer rushed my paperwork to get my pregnant wife covered under insurance quickly," Seronello said. "And she delayed my Basic Officer Leaders Course until my daughter was 4 months old, so I wouldn't miss her first few months."
The family moved to Maryland, where Seronello now spends his workdays conducting experiments and supervising a team of soldiers.
"At the end of the day, I'm able to leave my work at work and spend quality time with my family," Seronello said. "Being able to do this has made my life so much better, and I'm a happier person for it."
Looking back on his time at UC Merced, Seronello recalled those who prepared him for his work, including Choi, then-interim Natural Sciences Dean Mike Colvin and Natural Sciences Graduate Programs Coordinator Carrie King.
"Dr. Choi and my committee (professors Henry Forman, David Ojcius and Miriam Barlow) taught me not only how to perform experiments, but how to plan them in order to answer the overriding experimental question," he said.
"(Colvin) made me much more comfortable with taking an atypical career path, and (King) taught me the importance of helping those you're there to support. This is an important skill in the Army, because you succeed best by supporting your soldiers."
Leveraging that preparation, Seronello has embraced the military life.
"I'm happy with my decision to join the Army," he said. "And I look forward to everything I will be able to do in the future." 
Senior Public Information Representative
Office: (209) 228-4203
Mobile: (209) 628-8263