University of California's online instruction program is a systemwide effort that aims to explore and develop the use of online education in UC's undergraduate curriculum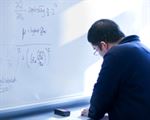 A calculus course at UC Merced marks the first class to be offered through the University of California's online instruction project, with several more courses to be rolled out in early April. The program's inaugural course, which began Jan. 17, is a preparatory calculus class taught by instructors Lei Yue and Maria Albert. It blends online coursework with weekly two-hour discussion sessions. The format enables students to work at their own pace, focusing on the areas in which they need the most practice and moving quickly through material they are grasping easily, according to Yue.
UC's online instruction program is a systemwide effort that aims to explore and develop the use of online education in UC's undergraduate curriculum. Through the program, UC faculty will offer high-enrollment, lower-division gateway courses for full course credit - first to UC students at their home campuses, then to non-UC students for transferrable credit, and ultimately, to students at other UC campuses.
Coordinated through the Office of the President and involving all nine undergraduate campuses, the online instruction project consists of a number of key components. One of these is an evaluation program that will gather comprehensive data on what works in online education and what doesn't - data that can inform the way online education is delivered in a field that has thus far been notoriously understudied. The results of this evaluation will be presented in a report to be released toward the end of 2012.
Another core aspect of the program is the creation of an open-source learning platform, called the Common Learning Environment (CoLE), aimed at offering faculty greater flexibility in teaching their courses than what is currently available on the market. Built by a dedicated project team from top-tier universities – including UC Berkeley, with contributions from staff across the system – the CoLE seeks to incorporate the best elements of existing learning tools and systems and to adapt other capabilities, such as those in social media, to the academic environment. A webinar on the CoLE is available online. 
Creating a media-rich environment "I was against the idea of online instruction in the beginning," said UC Davis Professor Arnold Bloom, whose class on global climate change will be among the spring semester offerings. "I've now become an evangelical for it." Bloom's course makes use of 10-minute mini-lectures shot in front of a green screen, with special effects and background text that help illustrate the concepts under discussion. He described the videos as "mini Ken Burns-style documentaries."
Bloom said the online course has the potential to enable an unlimited number of people - both within and outside the UC system - to broaden their understanding of climate change. "My hope is that we can get our students in a discussion with students from around the country and around the world, engaged in issues like: Should we have cap and trade?"
The courses in the program are designed to employ the capabilities of online instruction to provide an experience distinct from the classroom. Susanne Lohmann at UCLA, for example, is teaching a political science class that takes advantage of multi-player gaming to illustrate concepts about collective decision-making. For a music course taught by Shlomo Dubnov of UC San Diego, students will be able to post and share their own composition, using audio files to comment on specific phrasings within a piece of music.
Courses planned for release this year range from algebra and chemistry, to information technology, to current affairs, to arts and dance.
"So much of online learning is geared toward disciplines where there's a right answer and a wrong answer," said UC Riverside professor Jacqueline Shea Murphy, whose dance studies class is slated for the fall. "I felt it was really important to be part of the pilot project and have a platform that was shaped to include ways of learning based more on developing critical thinking skills and on discovery."
Next steps More than 20 courses, with at least one from each of the nine undergraduate campuses, are in development for the program. Proposals for a second wave of courses, to begin in 2013, have been submitted and will be evaluated for development over the next several months.
The online project will roll out in several phases, with five to seven courses currently in development to begin in early April at campuses on the quarter system. Another half-dozen courses are planned for the summer.
All of these courses will be available to students enrolled at the home campus at which the courses are taught. Just as with any course in the system, students may enroll in courses taught at campuses other than their own, but doing so requires an inter-campus enrollment process that can be complicated and cumbersome.
Ultimately, once logistical details about cross-campus registration and other factors can be resolved, the program aims to facilitate the process, allowing UC students on any campus to enroll in any UC Online course without going through inter-campus enrollment.
In the fall, the online program will be expanded to also include non-UC students, who will pay a fee per course. The revenue will go in part to supporting the cost of the Online Instruction Program and in part to the faculty and departments that have submitted and developed the courses.
UC has enlisted Blackboard, Inc. to provide enrollment strategies and students services to reach non-UC students. (For more information, a recording of the kickoff meeting with Blackboard is available online.