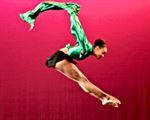 UC Merced will bring the acclaimed Lula Washington Dance Theater to Merced on Sept. 29. Renowned for its mix of jazz, ballet and urban street styles, the troupe will perform at the recently-restored Art Kamangar Center at the Merced Theatre.
The event starts at 7:30 p.m. at the theater, 301 W. Main Street in downtown Merced. Tickets are $15 general admission and $10 for students.
The dance performance is sponsored by Arts UC Merced Presents, which aims is to entertain, educate and enrich residents of the greater Merced area.
"Nothing gives me more joy than connecting people to UC Merced through the arts," event organizer Gail Benedict said.
Benedict wanted to book the troupe when she heard about its 2012-13 tour of inland California at an event for arts group organizers. Sponsored in part by the James Irvine Foundation, the subsidized tour helps the Los Angeles-based group share its art with communities outside of major metropolitan centers.
The upcoming performance by Lula Washington and her dancers is one example of many rich cultural experiences that come with having a UC campus in the San Joaquin Valley. UC Merced is the most diverse campus in the system.
Washington grew up in a low-income neighborhood and discovered dance while she was a community college student in Los Angeles. Inspired by the Alvin Ailey American Dance Theater, she went on to study dance at UCLA and found her namesake company in 1980.
The group has entertained audiences in more than 150 cities in Europe, Asia and North and South America. Reviewers have called Washington's mix of styles "live jazz," "high-flying and acrobatic" and "politically conscious dance."
Washington has won acclaim for her work in film. Her recent credits include choreography for "Avatar" and "The Little Mermaid."
This will be the first event hosted by UC Merced at the historic theater, which has a stage suitable for music, drama, dance and other performances. It can also seat more than 1,000 people.
"When the Art Kamanger Center at Merced Theater opened, I made a mad dash to the general manager to find out if they could accommodate this group," Benedict said. "Luckily, for the community and the dancers, it all worked out."